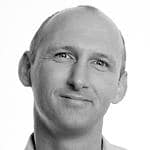 Two of the challenges that organisers face when tasked with finding a group activity for a large conference or teambuild are finding ideas that work on a big scale and finding activities that are affordable for such a big group. This becomes an even bigger problem if organisers do not have the time or luxury to be able to break into smaller groups.
It's understandable that many organisers often eliminate the idea, thinking it's just too much trouble, and then just plan another speaker or slide show on the agenda! However, this is a great shame as an interactive group session can make a conference or teambuilding activity much more successful.
When it comes to any conference or large meeting, we believe that, if you want to keep your large audience awake and engaged for the rest of your important day, having a fun team activity brings a great deal a value, particularly those activities that motivate, energise and inspire and that everyone can get involved in!
For years, I have stood at the back of conference halls and witnessed delegates yawning, looking at their phones and only half listening. Since you will probably pay considerable sums of money for your venue and meeting/conference production, we believe that a small percentage of this spent on entertaining and energising your audience represents a sound investment. Indeed, the fact that we have many repeat clients across the world is testament to this.
It's important not to forget the critical roles that emotion and excitement play in helping your group to remember the key messages of the day, to take home with them. All the well thought-out speeches and dynamic phrases projected in front of your audience rarely compares with providing people with an emotional and highly entertaining experience. People easily forget words; they remember feelings much longer. That is the benefit of choosing a team activity that creates an emotional connection with the audience.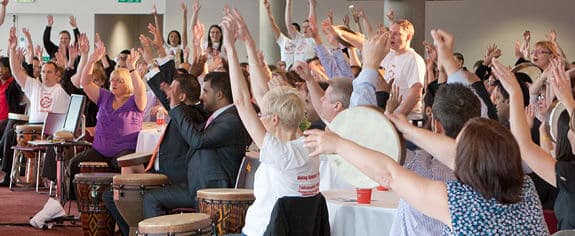 We offer an ever-growing list of team building activities for large groups. Activities such as Haka, singing, Street Moves, Clap Happy and Boomwhackers consistently transform groups and can be provided with no fuss, minimal equipment and all in one room – an event coordinator's dream!
For the ultimate roof-lifting experience, we have perfected drumming for large groups. A very recent example was when we delivered a 1400-person conference surprise at the SECC in Scotland. It took just eight facilitators, and a few helping hands on the day, to place an instrument on every seat in less than an hour. In typical Creative Team Events style, delegates poured in through the doors at 9am to discover row-upon-row of drums and, to top it off, ten of their managers were on the huge stage playing with us to welcome everyone. Now, that's how to start a day!
For organisers looking for the most effective way to entertain a large group, we often recommend our Boomwhackers option. I personally have walked on stage at Celtic Manor in Wales with nothing but large bags of amazing boomwhacker musical tubes. In under two minutes, the boomwhackers were in everyone's hands and, in under 30 minutes, a unique musical piece had been composed and performed together by all participants!
It took only three minutes for everyone to pass all the tubes back into waiting bags and then I was gone – leaving a highly-charged room wide awake to hear the next speaker. So, how many people do you need to entertain and energise 600 delegates? The answer is just one man and a few bags of plastic tubes!
If you are fortunate enough to have multiple rooms available, we offer two perfect group activities that allow the full audience to be rotated around separate activities as smaller groups, which then meet up at the end to perform together as a whole. These are Urban Jam and Global X Factor, which are designed to last about half a day. Each culminates with a spectacular full-group finale performance.
Football or music fans will know that there is a special energy and tangible power when big groups of people come together for a football match or a rock concert, and we aim to provide the same sense of excitement with our large-team sessions. So, next time you have a large conference or team building event, please think about how you might use the opportunity to leave your audience with a company memory forever!
For more information about our team events, please Contact Us now.
Pages you may find interesting:
Team Building for Large Groups  |  Blog Homepage  |  Conference Ice Breakers  |  List of Our Events