Last Saturday, we saw the beginning of the 'Family Fun Day' season for us. With the school holidays beginning and the weather more dependable, many companies choose this time of year to say a big thank you to their employees and their families for all their work and support over the past year.
Our particular event was held in central Swindon. After an early start on site, it didn't take long to get everything set up and ready for a 10am kick off.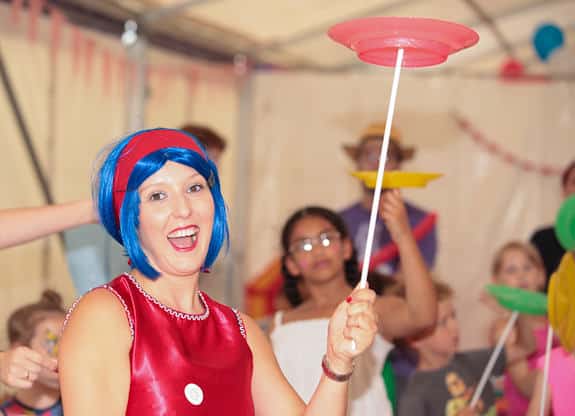 Our Family Fun Day was for 200 people. The emphasis of the day was to show the environment and equipment associated with our client's company.
We had coaches at the ready to shuttle people from the car parks, with cold drinks available on arrival and a variety of activities for them to try.
One of the highlights was the kid's creative tent. With ten trained children's entertainers dressed in Disney costumes, parents were safely able to leave their children to play games, be mesmerized by live magic shows or even have a story read to them!
With boundless energy and enthusiasm, the children loved learning to spin plates and juggle in the circus skills session.
Further on, families could bounce their hearts away on inflatable bouncy castles.
The pedal Go Kart time trials were a big hit with the very competitive dads. We had constructed a precise obstacle course that children and adults were able to navigate with skill for a fast lap. With chequered flags waving and cheering spectators, everyone had lots of fun with ever faster and faster speed records being set.
After all that hard work, most people sought solace from the sun and headed for the BBQ, which was sizzling away for them, next to the flowing chocolate fountain!
By 4pm, the site was empty and clear up was rapid and efficient. By 5pm, all that stood waiting to come down was the big marque tent itself.
We had a really rewarding day, with many people showing their gratitude. It provided a wonderful opportunity for employees (and their families) to talk, mix and share in a way that they don't during a typical working day. What a great way for a company to demonstrate to its staff that they are appreciated!
Our next Family Fun Day is for over 600 people and will mix combine harvesters with hot air balloon rides so I'll let you know how that goes in a future blog post.
For more information about our events, please Contact Us now.
Pages you may be interested in:
Family Fun Days  | Blog Homepage  |  List of Our Outdoor Events