In many of our events, the team activities we provide are selected to fit closely with the relevant conference or meeting message. Often, it is the close connection between an activity and the theme of the event that really inspires our clients to choose us, and the activity. We can spend many email and phone calls explaining how a particular team experience will fit perfectly with a planned business presentation or the CEO's vision for the future. I believe this attention to detail is one of the reasons why we have been successful through the years.
That said, every now and then, we have clients that come to our website to choose activities that are not particularly connected to a particular theme and they just look fantastic fun! This was exactly what happened for an event last week.
I set off in some very drizzly weather for East London where, after negotiating some typical London parking, I came to a very unassuming address. It was not a hotel or conference centre, or even a country house with a winding drive, but just a simple door and lots of stairs going upwards.
Our client had booked an amazing loft space, which is regularly used for TV filming and the production of music videos, to host a team meeting and team activities. This open plan expanse was full of wonderful bizarre furniture, with amazing colours all around, and made a perfect setting for the day and our creative endeavours.
First off, the group of 30 was ushered in to meet our dance instructors and informed that everyone would learn and perform a Bollywood dance routine in under an hour! In seconds, bags were dropped and coats thrown off so everyone was ready to warm up and start the process.
With great excitement, the team got stuck right into every move, hip shake and wiggle they were shown. After adorning some costume props, participants danced their hearts out as the unmistakable Indian music pumped out.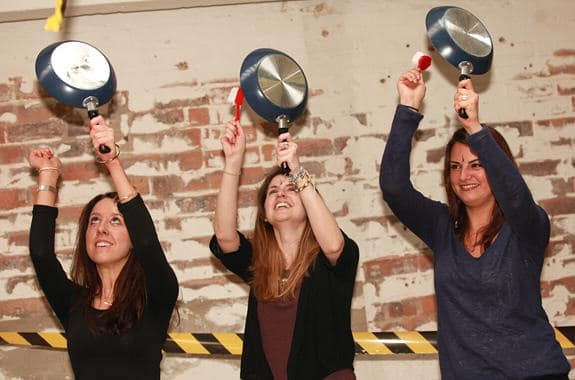 With only seconds to catch their breath, participants were then accompanied into the next room where we had set up our Junk Funk instruments. So, from just moving their bodies to music, they would now learn to play intriguing musical instruments.
You would be amazed at the musical possibilities of the humble step ladder, watering can and industrial bin! Over the next hour, we had tremendous fun as we created a pounding, urban rhythm group. We had all the usual interactive surprises, which included a fantastic impromptu urban dance couple and a bucket drum soloist.
All in all, it was an amazing afternoon in a totally creative surrounding, which demonstrated that team activities don't always need to be directly connected with business themes. They can just be about trying something new with everyone jumping in.
After all the excitement, it was back into the drizzle for me and the wonderful London traffic!
For more information about our our team events, please Contact Us now.
Pages you may find interesting:
List of Our Indoor Events  |  Blog Homepage  |   Team Building Events