Fun corporate drumming activities for a unique team building experience
You can rely on us to deliver an unforgettable corporate drumming experience for your team in any location in the UK, or worldwide, and for any group size from 5 to 5,000. We have over 20 years of experience in delivering corporate drumming activities around the world, involving ten of thousands of participants. We are the market leader in providing corporate drumming activities for the world's leading companies. Please Contact Us now for more information.
Drumming anywhere!
Over 15 years, we have developed an enviable reputation for reliably delivering a broad range of compelling corporate events using all types of drums from across the globe. Please view our client list and testimonials to see the impact we have had.
From the first phone call, we will listen to your specific requirements and aspirations, and can provide you with a quote within the hour. Additionally, we would be happy to come and discuss your event face-to-face, with absolutely no obligation.
We can deliver corporate drumming sessions:
in any venue, whether it is your office. a conference room or a hotel room
in any location, in the UK, USA or overseas
with any size of group, from 5 people to 5,000
with any event duration, ranging from 30 minutes to one day
Watch a real corporate drumming event
If you want to know what a corporate drumming event looks, feels and sounds like, watch the following video by selecting the play icon.
Suited to any occasion
Our corporate drumming sessions are suited to a broad range of occasions, including:
away-days
team building events
team meetings
conferences
corporate parties
product launches
motivational events
management and leadership training events.
They also make excellent ice breakers and energisers in team meetings and conferences.
The core corporate drumming ingredients
Successful corporate drumming events do not just happen. They are the result of a number of critical ingredients. The critical ingredients of our drum-based activities are:
Inclusion. Our expert facilitators ensure that all members of the team participate, regardless of their language, culture or level in the organisational hierarchy.
Creative interactive activities. Drumming requires participants to actively listen to each other, and everyone has to focus hard to become a cohesive team.
Expert, well-trained facilitators. The quality of a facilitator can determine whether an event succeeds of fails. We do not take any risks, using  only the best, most experienced facilitators.
Fun. We promise that participants will have a memorable and fun experience. We have spoken to many past participants who regularly tell us that the memory of the event stays with them for many years.
Please fill out the form below to contact us
"If you'd like a quote or have further questions then just enter your details below and we'll get back to you as soon as possible. We strive to provide a quote within an hour."
Lisa Hayes, Director of Creative Team Events
Full contact details are on our Contact Us page.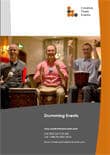 Please download our corporate drumming brochure (in PDF format), which provides further information about our activities.