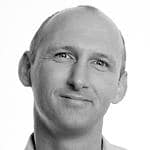 Last Saturday evening, I attended, with my wife and daughter, a very special musical event at which composer Benjamin Till premiered his London Requiem. Benjamin is an award-winning composer, director, film maker and musician. He is the epitome of creativity and a great inspiration to our company. When he is not writing for the BBC, working on the film Brick Lane or being nominated for a Royal Television Society award, he lends us his talents and leads our One Voice and Christmas music events.
It is so important to us that we can call on this level of experience within the group singing activities we deliver. As we often say, it is really the quality of the artist, facilitator or instructor that really makes a team event a success.
Our attendance at the premiere had very personal significance for me and my wife, Lisa. Ben dedicated the London Requiem to our baby son, George David Hunter, who very sadly died just hours before being born. This, as you might imagine, made this evening very special to us and we both cannot thank Ben enough for this honour.
The initial inspiration for Ben's ambitious composition came from reading many touching epitaphs found on gravestones from all around London's ancient cemeteries. These profound and succinct messages left to remember the dearly departed, were wonderfully weaved together and set to music, to make them, at least in one sense, truly eternal.
Knowing Ben's attention to detail and zest for drama, we guessed that the unveiling of this musical piece would be different. From the tall grey gates at the opening of Abney Park Cemetery in London, the waiting audience was led down the tree-lined path, past thousands of old grave stones that were covered in ivy.
At the bottom of the path, peering out of the darkness, were rows of balloons leading us all to the stunning flood-lit building of the Funerary Chapel. The eager audience stood or sat in front of this illuminated Gothic backdrop, with a full moon adding to the picture.
All around were banks of sound equipment, lights and a film crew to capture the performance and stream it live to the rest of the world.
The specially-selected musicians and singers took to the stage to successfully deliver what had taken years to bring together. Hearing the music in that setting was simply wonderful. Picking out the special epitaphs, hearing the sumptuous harmonies and watching the percussion played so precisely by my great friend Matt Whittington made for an incredible evening.
After one hour, and just as the frost was biting my nose, everyone was on their feet to applaud as the London Requiem's last movement came to a close.
As we left the makeshift auditorium behind us and walked back through the now very dark wood and (even more scary) hidden gravestones, I could just make out the emotions displayed on people's faces that only a live performance such as this can produce.
Stepping beyond the cemetery gates onto the bustling pavement of Stoke Newington High Street, it felt that we had just arrived out of another time and place altogether.
Creative Team Events is happy to have sponsored the percussion section on the newly-released CD of the London Requiem, which is also available on iTunes, with guest contributors Matt Lucas and Barbara Windsor. It is an honour to support Ben, and the many others involved, to realise this music and make it available.
Pages you may find interesting: