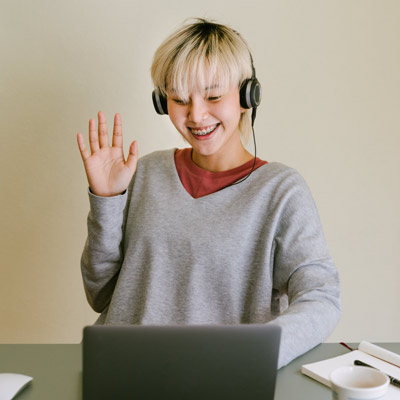 As more staff are working from home or remotely, there is an even greater need to build connections and to work together effectively. Our unique virtual team building activities deliver similar levels of excitement, fun and impact as our traditional team building activities to allow you to connect individuals wherever they are located. With 20+ years of experience in team building and conference organisation, we offer inspiring and unforgettable virtual team building activities, for large or small teams. Contact us now for more information.
With offices and individuals separated all over the country or the world, they can still experience the excitement of success gained from working together as a team. Through video conferencing, we brief, deliver and manage each activity in our own highly-energetic style. Have a look below at some of our most popular virtual team building events we are currently delivering.
Create a company masterpiece
We have adapted and enhanced our market leading Big Picture activity to create an immersive, addictive and creative activity that has become a hit with virtual teams worldwide. Release your inner Rembrandt or go wild like Warhol in our art-based team building activity. Your team will create a piece of art or company logo composed of many handcrafted, smaller sections.
At the beginning, each team member receives a section of a famous piece of art or company logo. Their job is to recreate that section using whatever products or materials they have available. Against the clock and with the 'big picture' always in mind, you will be amazed at everyone's ingenuity. Once all pieces are edited together, we reveal the complete work in dramatic fashion!
We usually hold a short video conference briefing to make everything clear to the participants. Then, it is over to them to get as creative as possible, with almost anything! Pasta, Lego, magazine cuttings, clothes, and even make-up, have all been used. This is what "adapting to survive" is all about and when "delivering for the team" really counts! During this activity, we encourage remote participants to connect with each other to discuss colour, techniques or textures to assure a cohesive end result.
When we receive photos of each finished section, they are carefully edited together and revealed back to everyone with great fanfare. The completed virtual work of art can be printed and framed for the office or sent to each contributor as a fun event memento. Different departments or even entire global regions can get involved, which could culminate in a conference slideshow of everyone's artwork, or even a beautifully-printed coffee table art book.
Participants comment to us how refreshing and therapeutic it was to get away from their screens and create something physical or "hands on", even just for a short while. This popular virtual team building activity is guaranteed to get everyone's creative juices flowing. When the final pieces are revealed after editing, the messages, video calls, comments and general hilarity between colleagues speak volumes.
We offer many different options with our art-based virtual team building events. For example, instead of recreating well-known artwork, why not recreate your company's logo or an image specifically associated with your organisation or department? This could make a unique screen backdrop for a future company conference. Alternatively, consider our 'What's in a Word Company Mosaic' activity. After a quick energiser on Zoom, we set the challenge for everyone to think of just one word that describes how it feels to be a Company team member. In the 20 minutes given, participants need to quickly reproduce their individual word using anything they can find around them, such as pasta, grass clippings, clothing or scrunched-up paper, and then send a photo of the image to us. Our team collates all the images to form one amazing picture.
For more information, contact us now.
Create a company music video
With music at the heart of our traditional team building activities, we have developed exciting music-based team building activities for virtual teams that general the same levels of excitement, motivation and interaction.
In our company music video activity, your team creates a dazzling music video, which combines of all your teams' efforts edited together to show just what can be achieved by team work. With so many different aspects to consider, there's always something for everyone.
Firstly, we host an energising virtual meeting in which teams are given their challenge to become instant pop icons. We support them with hints and tips from the performance world. Individuals then go and film a small segment of a famous pop song on their phone or tablet. We then quickly edit all the recorded segments together to create one amazing music video.
From the gregarious who want to shine to others who are happier just being part of a group chorus, prepare to see and hear work colleagues as never before. Imagine seeing the virtual possibilities with your own management team and colleagues. Different departments or regions can compete in a huge company music video competition!
Groups of between 10 and 30 participants can all contribute at one time to create a video of a famous pop song. We strongly advise dancing, props and rock star costumes.
The final fully-edited music video is not only exhilarating to be part of, but is a fantastic visual representation to keep of your colleagues accepting challenges and having fun with each other.
There are many famous songs to choose from and you can have minutes, hours or even days to record in your own time before sending your homemade videos back to us via Dropbox. Why not make it even more bespoke by your team rewriting the lyrics to suit the company? This could expand into creating a band name, album cover and clothing.
During this virtual team building event, we have technical support on hand at all times to help and advice participants with performance tips and guidance on how to receive or send recordings. It's all made incredibly easy.
This virtual activity is not about your singing ability or even remembering the words; it is about being a part of a team and trying something totally new together. Whatever footage we get back, we use. It is endless fun and makes for hilarious moments to watch. After we have received all your videos back and edited them together, we release to you the finished music spectacular. It's perfect for playing at your next company conference or office Christmas party! For more information, contact us now.
TikTok-style dance energiser
With TikTok being the latest global craze, we thought what better way of bringing your group together than in a signature company dance. Led by our expert choreographer, your team will be taken through a short, invigorating TikTok energiser followed by a session where you will learn your very own TikTok-style routine. This will, where possible, include movements that represent company values so it really represents who you are as a team. Then you video the results, send it back to us and we create your own video sensation!
Our TikTok virtual team building activity is led by Matt, who has worked with, or been part of, Britain's Got Talent, the Brit Awards, Disney, Sky Sports, FIFA, Magic Mike, Mariah Carey, One Direction and Chris Brown. One recent participant said, "This was a great pick-me-up energiser! There was lots of laughter but Matt also made us concentrate! He was a good teacher and very encouraging".
For more information, please contact us.
Virtual stress busting, guided meditation and yoga
Ensuring the wellbeing of employees has never been so important. We offer a broad range of virtual workshops and sessions in this area, all led by experts in their field. These can be delivered as standalone sessions or as an integrated part of our virtual team building activities.
Build resilience and proactively prevent the effects of stress with our effective stress busting virtual workshop. The workshop is highly interactive, with attendees learning mindfulness and Neuro-Linguistic Programming (NLP) techniques and more, which they can use at work and at home. Our expert facilitator offers a variety of targeted sessions, which can include:
the body scan exercise
reframing
setting an anchor
easing stress
building resilience
living/working productively.
Participants take away with them comprehensive notes (supplied as a PDF) and are provided with audio tracks of some of the exercises so they can practise whenever they feel the need. Our virtual sessions have proved very popular. Here are recent comments:
"Important time out of the day to learn techniques for stress relief. Loved it", Caroline (Deloitte)
"Thank you for the session. It was very interesting and some great tips", Deborah (NHS)
With over 30 years' experience, our guided meditation leader Maria-Elena believes in the importance of easy and accessible practise of yoga and meditation. Using simple breathing exercises, participants will remotely learn to 'relax effortlessly'. These transformative sessions improve the respiratory system,  thereby boosting the immune system, and provide powerful relief for worry, anxiety, fear, anger and negativity in general. One participant said, "I thought this would be a bit strange to begin with…but soon felt my worries melting away!  The session was really empowering".
Chantal is our instructor for our yoga sessions. She teaches all over Europe and has recently built a plant-based, biodynamic eco farm where she runs wellness retreats. With a fabulous ability to connect with people, no matter how much experience they have of yoga, Chantal will take participants through a bespoke company yoga session. This will clear the mind of negativity and fill the body with energy.
For more information on any of our wellness options, please contact us.
Boogie Bingo
If you are looking for something fun, why not try our unique virtual bingo activity? We've ripped up traditional bingo cards and our cards list artists and song names. Instead of boring old numbers being called out in a normal game of bingo, there are 15-20 seconds bursts of the most toe-tappin', bum wigglin' sing-along songs from the past and present. With bingo card in hand and dabber on standby, participants listen out for the songs being played and mark them off as you would a normal game of bingo. Will they know what each song is and mark them down in time? Our energetic and charismatic game show host will keep everything in order and act as DJ for the event. For more information on Boogie Bingo, please contact us.
Food and drink virtual team experiences
We offer a great range of tasting experiences for remote and virtual teams, which are proving very popular.
Hosted by the world's leader in all things 'tea', you are invited to 'take tea' in our wonderful Virtual Tea Party Experience. Before the event, you will be sent a delicious afternoon tea hamper so that you can enjoy our unique, quintessentially-British tea experience. In the session, you will learn about different types of tea, how to make a proper cup of tea and the origins of the traditional afternoon tea – every intricacy included! Participants will be able to ask questions in this intimate, relaxed tea party. Your tea party celebrity is one of the best-known and most highly respected professionals in the tea world. She has worked as a writer and educator for over 35 years and is tirelessly committed to sharing her knowledge of tea. She teaches tea masterclasses all over the world and has written 17 books on tea.
How about our Wonderful World of Whiskey activity? We invite you to join us for a unique virtual team get-together to enjoy learning about the history, distilling process and flavour variations of whiskey. Even if you don't think you like whiskey – our lead facilitator has been known to convert many! As an IWSC whisky judge since 2009, a Keeper of the Quaich and a Liveryman at the Worshipful Company of Distillers, there is not much he does not know about whiskey. Participants will be sent a tasting pack of six fabulous single malts each. Relaxed, interactive and very informative – our virtual team activity will transform a Friday end-of-work session, party or get-together.
As another option, we offer our Gin Tasting Experience. Our gin experts have the passion and love of all things gin. So much so that they started brewing their own Artisan gins. Participants will each be sent a gin tasting pack, complete with paired mixers ahead of the experience, which lasts approximately an hour. It is a relaxed, informative event with plenty of time to sip, discuss and chat.
Our tasting sessions have been very popular, and here are some recent comments:
"Had a gin testing session with the gin experts at Creative Team Events and they were extremely knowledgeable. A really good session remotely and, if you are into your gin, they gave great tips. Let's not forget their gin either. It tasted great!"
"By far the best thing I have done all lockdown. Emma was the most amazing host and my clients loved it. I will 100% be booking again."
For more information, please contact us.
Ten benefits of our virtual team building events
With the coronavirus pandemic causing organisations to significantly change how they operate, employees are being faced with immense work and personal challenges and higher levels of isolation than they may be used to. Many remote and virtual teams are in desperate need of effective team building solutions and enhanced interaction. We are happy to help! We have developed a range of virtual team building options that all have the following ten benefits:
They allow colleagues to engage with each other and connect with new and existing colleagues. We have found that participants often message or contact each other for vital assistance or even just team support during and after our virtual team events.
Regardless of the team challenge, focusing on our events can be a positive stress reliever. Our virtual team building sessions break monotony, promote being more physically active and provide new experiences.
Our virtual options can easily fit into busy work schedules. Timescales are flexible and some of our events last only 20 minutes.
Our activities are designed to be totally fun and wildly entertaining. Our trademark is providing non-stop fun. The same charismatic facilitators who inspire from the stage and captivate live audiences deliver our virtual team building events to you.
We have a global reach and decades of team building experience, so you are in safe hands. We are known all over the world for delivering at the highest professional level.
We are trusted by the world's largest organisations for privacy and security. Content, emails and recordings are all absolutely secure.
Our virtual team building activities are very cost effective. Travel and staffing costs are greatly diminished compared with traditional team building events.
Company messages and values can be highlighted. Your event goals or company values can be 'woven' throughout your virtual team building activity so your participants see the relevance and purpose.
Our events keep participants inspired, surprised and connected wherever they are.
Our activities often leave a completed product or recording, which can be displayed or revealed in the future.
We are constantly creating new virtual team building events so please call us on 0345 260 3434 to talk through the possibilities. We can often adapt the other exciting activities you will find on our website to the virtual platform. To get in touch, please contact us now!