Last night, while they sipped their pre-dinner drinks, 100 unassuming diners heard the unmistakable sounds of drumming and singing in the distance. The sounds became louder and louder. Before the guests could blame these sensations on alcohol, our African drummers and dancers burst into the hotel foyer playing and dancing, and led the stunned guests into the themed dining room, for our Out of Africa evening event.
With evocative room lighting, there were large tribal masks hanging on the walls. Huge African drums stood in every corner and, for some familiar images, we had two large projector screens showing Lion King. Each table sported colourful African throws with African mask table centres. The room looked perfect!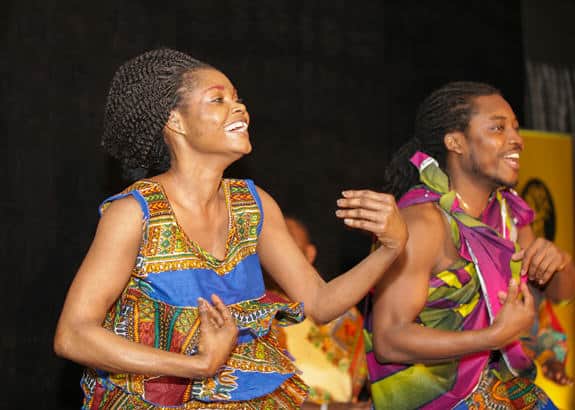 As everyone sat down, our African artists took to the stage for a short welcoming performance. This was definitely the way to kick off an evening, and quickly got people into the spirit of the event. People were quickly dancing to the infectious music.
As the music stopped, the host explained the format for the evening. The room had been divided into tribes and, in between dinner courses, we would return do a short performance and expect a table from each tribe to come on stage to repeat it!
After starters, the first African challenge was gum boot dancing. After the expert demonstration, selected tables came up to bowl over our VIP judges (with their waving score cards) and win the tribal points.
After the main course, we have two competition rounds: African singing and traditional dancing. Hilarious warbling and outrageous jiggling made for fantastic entertainment for everyone watching. The judges received a combination of thunderous applause and disapproving boos when scores were given out.
For the final round, after dessert, we had African drumming. Drums were provided for everyone to play. Participants watched our drum master on stage before all playing back their interpretation, with impromptu solos and roof-lifting drum rolls aimed at influencing the points on the board!
The four tables comprising East Africa won in the end, with everyone receiving a take-home drum as a reminder of the evening.
Our African performers gave one last performance, which had the excited guests on their feet dancing, and then they left the room to leave people to party the night away.
As with all our evening entertainment and dinner entertainment events, our team delivered an immense amount of fun and entertainment in a corporate dinner setting – getting everyone involved and leaving the room buzzing!
A huge thank you to our dinner guests who were ready to party from the first moments. We all had a fabulous night.
For more information about our team events, please Contact Us now.
More pages you may be interested in are:
Dinner Entertainment  | Blog Homepage  |   Evening Entertainment  |  List of Our Indoor Events