Last weekend, we had the opportunity of delivering a special themed evening. Our clients wanted to have a Christmas party with a difference so, after looking at all the options, they decided on a 1920s Fat Sam's Speakeasy extravaganza. We set about transforming the venue into Fat Sam's Nightclub. Guests were met at the door by their host for the evening – Fat Sam himself – our devilishly handsome actor in disguise (who is in no way overweight)!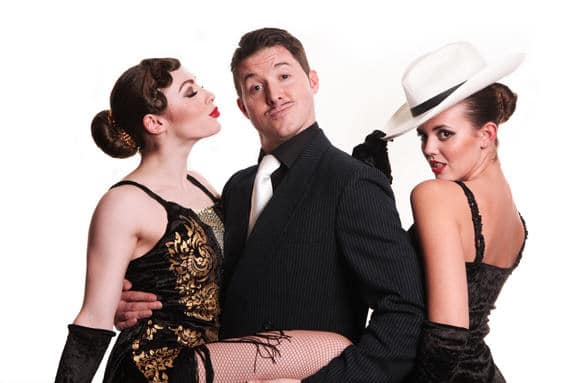 On entering, each guest received a trilby hat or feather boa to complete his or her look for the evening. Our stunning flapper girls mingled and posed for photos while the live jazz band played on.
The room itself looked fantastic. Lisa, Helen and Kelly had organized star clothes and exotic table centres to create the perfect effect. They even had old black-and-white gangster movies being projected on the walls.
This was only the beginning in recreating that authentic 1920s nightclub feel and ambience. When our guests took to their seats, our sultry jazz singer went on stage. Then, our dancing girls treated everyone to a choreographed Charleston show.
In true Creative Team Events style, we were able to inject a little interactive magic after dinner. Fat Sam sought out willing volunteers to quickly learn some hot Charleston moves from our girls. This quick competition was hilarious.
Back in the bar, we set up a photo area with a table full of props. We proceeded to have a constant flow of guests coming up with colleagues for a variety of fun and memorable shots.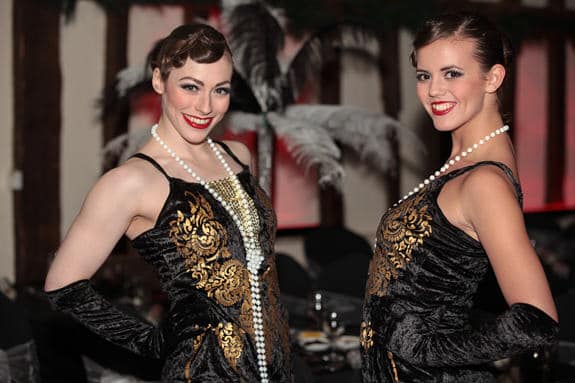 The disco kicked in as the live band finished and everyone danced the night away.
The evening was a perfect example of creating an entire experience for diners and working with our clients to add ideas and options. The feedback next day was so heart warming and I'm sure everyone will love the countless photos we have of the evening too. We simply had a ball putting this event together and can't wait for the next!
If you fancy adding some creative magic to any of your events next year, please Contact Us now.
Pages you may be interested in:
List of Our Indoor Events  |  Fat Sam's Speak Easy  |  Dinner Entertainment  | Blog Homepage  |    Crashing Waiters