Fun and unique team building singing activities for your best ever team event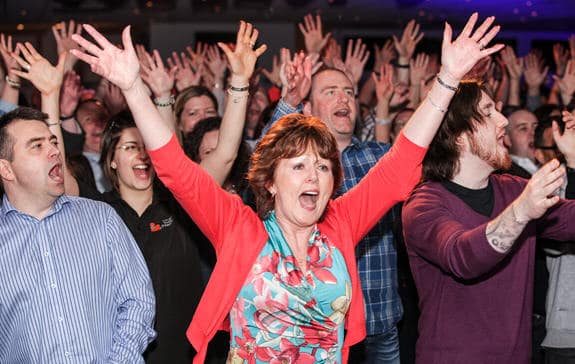 The TV is awash with hugely-popular singing competitions such as X Factor and The Choir for good reason. Demonstrate the power of teamwork with a singing collaboration that will be remembered in your organisation for years to come. Here is the opportunity to show what your team can do. This event has a strong emotional impact on participants and is great fun! We'll deliver an unforgettable team experience.
Whatever stage you are at in planning your next event, get in touch by phone, email or contact form as we'd love to provide help, ideas and more information. Full contact details are on our Contact Us page. We can provide a no-obligation quote within an hour. Get a Quote now.

Group size:
10 to 5000

Typical duration:
30 to 90 mins
Ice breaker, energiser and team building activity
Watch our video of a team building singing event
Click on the video below to watch a real team building singing event.
Team building singing creates a big impact on your team
Everyone can sing! Yes they can! This is the event that proves it.
Our vocal group enters the room and, much to the surprise of everyone, performs a song. There is an even bigger surprise when it is announced that everyone in the room is going to sing the same song, in harmony. This comes as quite a shock to a room full of people who are sitting comfortably in their meeting, conference or dinner. But this is exactly what this event is all about – being adaptable to change, overcoming fear and succeeding as a team.
In no time at all, our enigmatic vocal coaches will split the group into three and go through a short vocal warm-up to blow the dust off those under-used vocal chords.
This is not only a good icebreaker, but starts each group with small successes and lays the foundations for the subsequent stages.
Lyric sheets are handed out and each group begins to practise and perfect their melody or harmony to the chosen popular song. We have a list of tried and tested songs that are perfect for this event, but we are always open to your own ideas if they are suitable.
Our professional vocal coaches are chosen because of the many skills they need to make each event relaxed, entertaining, fun and a complete success every time. Each one of them has many years of experience performing, coaching or directing in the West End, on TV or on tour.
Once we have added a little stage direction and glamour to your vocal section, we bring together each group and layer their respective parts to create the ultimate working harmony.
You are ready to perform as One Voice and you will be stunned how good you sound. With many a raised eyebrow and well deserved pat on the back, you continue with your day having proved the point that there is no such thing as "I can't".
This is often a truly moving team experience that highlights the potential within…so just let it out!
Meet one of our expert vocal coaches
Click on the video below for an interview with Carrie Rawlings. Her passion for music and infectious energy mean that any group, of any size and located anywhere, will have an unforgettable team experience.
One Voice can be adapted to suit your requirements
One Voice is a highly flexible event that can be modified according to the size of group, the time available, the nature of your venue and any personal preferences. It requires no setting up or clearing down and therefore causes minimal disruption to the rest of your agenda.
Do you want to make that final performance extras special? As with all our events, there can be many added options, including:
costumes
live band accompaniment
concert lighting
surprise audience
Please contact us for help, ideas or a quote
"We'd love to help you, whatever stage you are at planning your next event. We're happy to provide further information, ideas or a quote. Just enter your details below and we'll get back to you as soon as possible."
Lisa Hayes, Director of Creative Team Events
We take your privacy seriously. Read our Privacy Policy.
You can also contact us by phone and email. Full contact details are on our Contact Us page.
We can provide a non-obligation quote within an hour. Get a Quote now.
Please download our team singing events brochure (in PDF format), which provides further information about One Voice.