Metaphors are comparisons that show how thing things that are not alike in most ways are actually similar in important ways. At first sight, our team building events may seem a million miles away from the challenges faced daily in business. However, this is not the case. We use metaphors in the activities that we specialise in, as we believe they are one of the most powerful ways to communicate learning to participants.
As facilitators, we want to communicate profound lessons about learning under pressure, business change and leadership. Our facilitators are trained to use sometimes simple, and sometimes more profound, metaphors for these messages, throughout our team building events.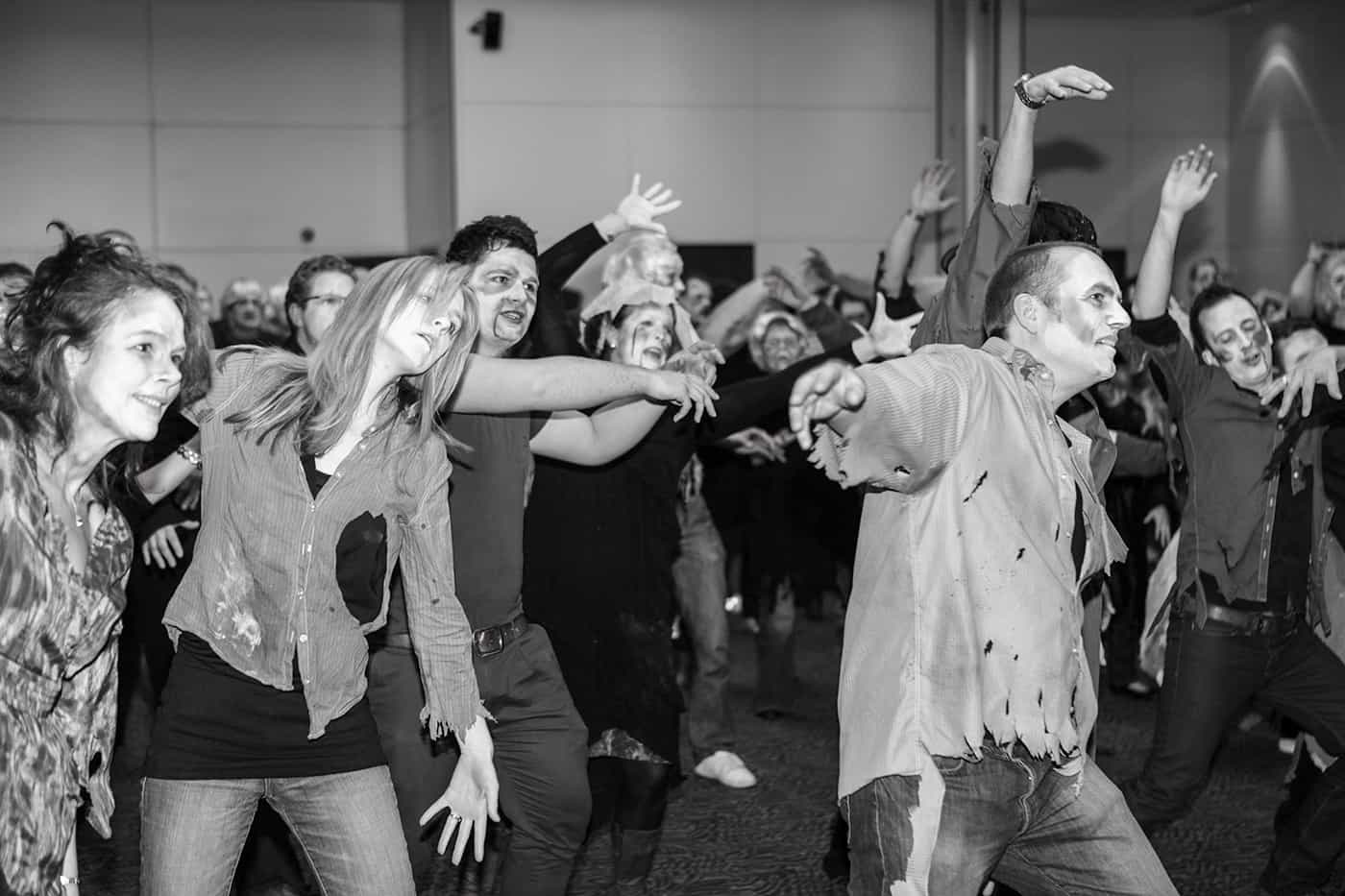 Our activities provide metaphors for working under pressure. Most of our sessions lead to a performance of some kind, after learning a brand new skill in a short timescale. Participants have to conquer a challenge, whether it is to become a singing group, perform the Haka or learn the Thriller dance. With a timescale of 30 minutes to two hours, this can be a 'big ask'. There is inevitably a build-up of tension and excitement as we approach the climax. Afterwards, there is often great relief, elation and real emotion at having overcome the challenge. The conditions and responses observed during our sessions are similar to many real work and business situations, as we are often told in event debriefs.
We provide important metaphors about business change. We often alter lighting, seating, context, objectives or sometimes even the entire activity. We demonstrate that, as long as we maintain strong leadership and clear communication as facilitators, a group can maintain focus through constantly-changing environments. With businesses facing so much rapid change, with regular reorganising and restructuring within corporate organisations these days, our use of business change metaphors is strongly welcomed by our clients.
Powerful metaphors of leadership are also brought out in our team building activities. In our many interactive sections, group members get to lead and be led, under instruction, and have to comment on their experiences. This can be very helpful and revealing. Once people taking part are stripped of their everyday working skills and intellectual competences, and are placed in totally alien positions, for example as the conductor of an orchestra, they are left with their core leadership and personal attributes.
So, I believe that the very natures of creativity, movement and rhythm provide powerful, positive metaphors for participants, and the beauty of these metaphors is that every single person can interpret them in his or her own way.
For more information about our team events, please Contact Us now.