I know nothing about cars. In fact, I can just about find the oil dipstick! Yet, I can sit engrossed watching the TV programme Top Gear for hours. I'm obviously not alone, judging by the viewing figures and the success of the bestselling books and DVDs connected to the show. The programme's popularity has led to multiple client requests for driving tasks in team building challenges. We have responded with our 'Beat the Stig' event, making reference to the hugely popular TV show and, of course, the Stig – its mysterious and anonymous driving expert!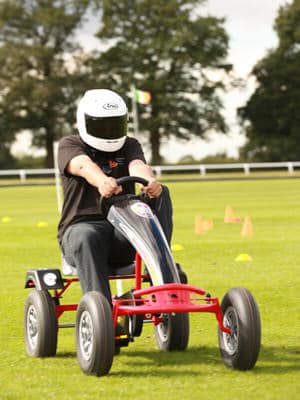 'Beat the Stig' has been part of our recent formal launch of a number of new outdoor activities, and combines our driving event ideas with a little creative magic! We have developed a unique half-day team building experience that is based around cars, driving, road knowledge and some healthy competition.
Already, 'Beat the Stig' has become a huge hit as it offers the perfect combination of physical challenge, thought-provoking conundrums and lots and lots of fun. Teams have obstacle courses to navigate, car quizzes to quickly answer, real live pit stops against the clock and they even get to create a replica sports car! There is something for everyone and the event has been designed to promote laughter and give your group a memorable day.
'Beat the Stig' is not an intense driving session but a chance to relax and have some fun with colleagues, so is ideal in the middle of a long conference or at the end of an intense day of meetings.
Our own Stig is always interacting with participants (without saying a word, of course) and watching the proceedings unfold from behind the tinted visor of his crash helmet. As a climax to the day, teams go head to head with each other and our Stig in a finale race. As a huge end of day surprise, you could even have your CEO or company VIP impersonating the Stig. The astonishment seen on people's faces when the helmet comes off always provides a brilliant moment!
One of the reasons that 'Beat the Stig' has become so popular is the fact that, even though it is designed as an outdoor event, it can also be held indoors if the weather takes a turn for the worst. This is possible as we do not rely on motorised vehicles. We can use totally silent, adult size, pedal go-karts.
Instead of, or in additional to, go-karts, we offer the option to include quad bikes, 4x4s or any other type of motor vehicle.
We guarantee an engaging event, which involves everyone in the team contributing to try and win the much coveted 'We Beat the Stig' trophy! For a real treat, one past client rewarded everyone in the winning team with Red Letter Day driving vouchers, so they got to spend the afternoon driving incredible sports cars around a real race track.
As the weather eventually begins to turn and team event thoughts begin to formulate, please consider our fun 'Beat the Stig' outside activity for your off-site event or team building day.
For more information about 'Beat the Stig' or any of our events, or for ideas of interesting and unique events, please Contact Us now.
Pages you may find interesting:
List of Our Outdoor Events  | Blog Homepage  |   Outdoor Team Building Activities