Rarely do we get a whole week, day after day, of our most popular rhythm events, but this is exactly what happened last week. Sunday evening started off at Heathrow airport, on our way to Finland. With two high-stacked trolleys, we heaved and swayed in between other travellers to get to check-in with over 30 drums in six huge cases.
We were met in Helsinki with an icy cold wind but also a very stylish transfer vehicle. Since our luggage would not have fitted in a usual taxi, our wonderfully thoughtful hosts had arranged a tour bus! The next day, we surprised a senior team and led a three-hour drumming workshop, which was specifically designed to contain relevant links to the company's values. During the session, the group learnt to work together and experience deeper creative listening, finally putting together everything they had learnt in a fantastic performance!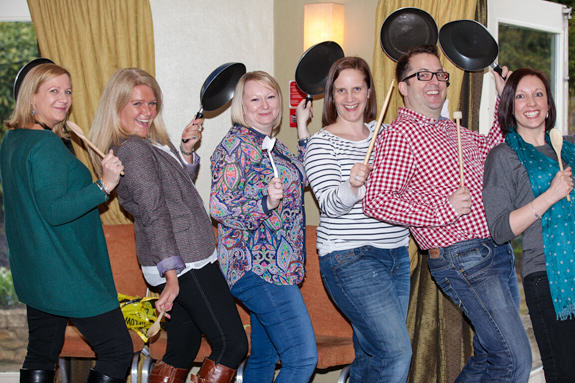 We arrived back very early on Tuesday morning and I headed straight up the M1 to a close-by conference centre to prepare and deliver an afternoon boomwhacker energiser. Initially, a very apprehensive group of participants listened to a quick preamble of my history and the work we do. It didn't take long for the folded arms to disappear and be replaced by chuckles and then fits of laughter as the group gelled together, working in harmony. The boomwhacker format that we have perfected over time using these musical tubes is always a winner. The musical piece that groups eventually perform always provides a fantastic and unifying team challenge.
The very next day, I found myself in a stunning stately home with nothing but a bag of rubber gloves to work with! A new client booked us to provide our Clap Happy energiser as an after-lunch wake-up call. Clap Happy is perfect for this application and, as it requires no set up or clear up time, it can fit perfectly into any agenda. The event was particularly special since our client had never done any team building activities with this group before and this was almost a 'test' to see the reaction. I left the meeting room 30 minutes later with everyone applauding and with beaming smiles. In just 30 minutes, the group had become a dynamic clapping orchestra. Participants were particularly happy that they had just acquired rubber glove mementos to take home with them!
At the end of the week, I headed for Warwickshire to deliver drumming, Junk Funk and Haka team events in Derby. This time, I was sporting much more than runner gloves! In the van we had step ladders, industrial bins, large buckets and a shopping trolley to name but a few items. Our blissfully-unaware group left the meeting room for a coffee break only to return to a veritable junk yard! We had transformed the room into the urban setting for our Junk Funk event in under 15 minutes. The next 90 minutes were just a joy for us as facilitators. Judging by the feedback, the event was highly enjoyable and successful for the group. It was a perfect way to end a very rhythmical week.
As I drove away, I felt very fortunate and proud of the whole week. We truly believe that the creation of music and rhythm as a group provides a tremendously powerful experience. The fact that we get to do it so regularly and share the benefits keeps us all inspired.
For more information about our rhythm-based team events, please Contact Us now.
Pages you may be interested in:
List of Our Indoor Events  | Blog Homepage  |   Team Building Events