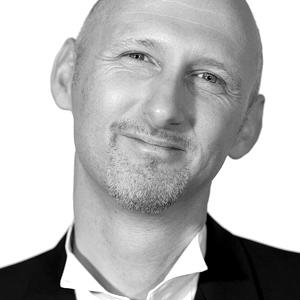 At least once a week, I find myself driving around London. Having worked in this vast city for over 15 years, London offers so many team building options for venues, activities and environments. Coupled with our many activities on offer, the options are almost endless.
In London, you don't even need to be restricted to indoor events. Our Treasure Hunts, Spooks and Team Apprentice are perfect for getting out on the street and as the picture below shows, you never know what other kinds of groups you will bump into!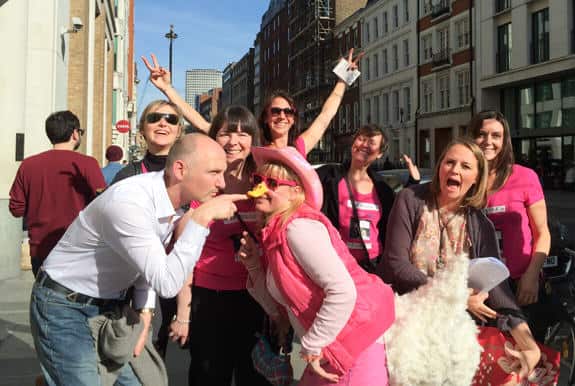 I remember many great team building moments in this incredible city. Here are just a few memorable examples from the past. It would take too long to explain the context of each one, but they definitely made sense at the time!
I remember being dressed head-to-toe in a gorilla costume in Alexandra Palace. As part of the jungle theme, my job was to hide in the giant pot plants and jump out to scare passing delegates!
Broadgate in the City is a huge circular pedestrian space surrounded by financial high-rise office blocks. For an entire week, this space was turned into a larger-than-life-size table skittles game. After all the steel safety wires were secured, the six-foot-in-diameter tethered ball was heisted into the air. The skittles were actually human participants in padded eight-foot-high skittle suits. Just as in the real game, the ball flew towards the target, spilling as many (human) skittles as possible.
On another occasion, a small group in Victoria had requested our Junk Funk activity. They also had an additional request. Could they also take to the streets to busk? Any money made would go to charity. After a call to the council for the correct permits, they did it and made £7.00!
One of the constant surprises with team building in London is the amazing range of venue types available. Being flexible is important, and having a positive attitude certainly helps when you are faced with an unusual or unexpected space to work with. Here are just some of the interesting venues we have worked in.
There is a very famous London football ground, which hosts corporate events during the week. What the venue staff failed to tell us was that there is a noise curfew imposed after a certain time and, therefore, our vehicle's ignition could not be started until the next day at 5am. After much wrangling, we were allowed to push the fully-packed vehicle out of the ground!
Sometimes, the venue is too perfect. The London Art House has the most extraordinary lavish rooms, each room bursting with vibrant colours. Creating music in these inspiring rooms made our instructors never want to leave!
Finally, I remember walking into a conference in the 02 Arena for the very first time and being offered champagne. I was very impressed. The very next time I was there, I was out behind the building by the bins, unloading hundreds of drums!
London is never dull, and makes a tremendous location for all of our team building events. Please do give us a call if you are considering holding an event in the City.
For more information about our events, please Contact Us.
Pages you may find interesting:
List of Our Events  | Team Building in London  |  Blog Homepage  |   Team Building Events