Bollywood provides incredible dinner entertainment or a unique team building experience
Bollywood will fill your room with colour and energy, and is great fun for participants. Dressed in stunning traditional costumes, our Bollywood instructors will prepare your team, step by step, for a spectacular Bollywood dance performance. Our Bollywood team building and dinner entertainment events are highly flexible and suit a wide range of occasions. For more information or ideas, please get in touch by phone, email or contact form. Full contact details are on our Contact Us page. We can provide a no-obligation quote within an hour. Get a Quote now!

Group size:
5 to 5000

Typical duration:
20 mins to 2 hours
Dinner entertainment and team building activity
How our Bollywood sessions work
Energise your team as East meets West in this truly magnificent traditional spectacle. Our Bollywood instructors will not only add a burst of colour and movement to your event but will deliver an interactive fun-filled session.
Your guests will discover the delights and challenges of learning a complete Bollywood dance performance. Our Bollywood event is popular because:
no event set up time is needed
it promotes a global theme
it provides a highly visual and energetic energiser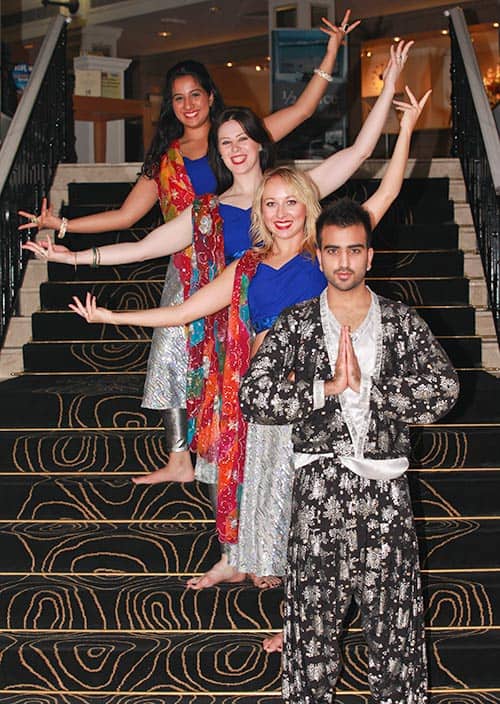 Your team will be instantly transported to the East. Our Bollywood experts will be beautifully dressed in traditional costumes, with incense filling the room.
After a brief warm-up exercise, to get the brains thinking and smiles flowing, your delegates will be taught a series of simple, yet effective, moves.
Everyone can participate in our Bollywood event and your room will be transformed in no time at all. History and culture are also part of the event, as the newly found 'performers' learn the origins of this unique art form.
We have wonderful saris for the ladies and bright shirts for the men to add the finishing visual touch. This activity is about energy, letting go and creating a 'feel good' atmosphere. The group will increasingly feel the connection and support of working together as a unit.
The event then builds to a fantastic, dramatic and visually-spectacular performance at the end of the session, to be remembered by participants for years to come.
Bollywood is suited to a variety of occasions
Bollywood works well for many types of occasions, including:
– evening entertainment
– conference ice breakers and energisers
– team building events
– meeting ice breakers
– corporate team building
– product launches
– corporate parties
– leadership and management training.
Our Bollywood event is highly flexible and we are happy to adapt it to meet your requirements:
no limit on the number of people that can participate
event duration from 30 minutes up to an all-day multi-event
any size of room
anywhere in the UK or worldwide.
Please contact us
"If you'd like more information, ideas or a quote without any obligation, then just enter your details below and we'll get back to you as soon as possible."
Lisa Hayes, Director of Creative Team Events
We take your privacy seriously. View our Privacy Policy.
You can also contact us by phone or email. Full contact details are on our Contact Us page.
Pages you may be interested in:
Dinner Entertainment  |  Indoor Team Building Activities  |  List of Our Indoor Events