We specialise in indoor team building, offering a unique range of proven activities built up over more than 20 years. So, forget outdoor physical challenges, which are likely to alienate many people within your team. Also, forget the unpredictable weather! We can deliver indoor activities anywhere – using your existing office, meeting room or conference hall – and yet totally change the feel of the environment. Get a quote whatever stage you are at planning your next event. We can provide a quote within an hour. Full contact details are on our Contact us page.
The great inside, but a transformed environment
When people first think about team building, they often picture outdoor events, with highly-challenging physical challenges, often in wind, rain and mud. Unfortunately, it's either too hot or too cold for someone.
Outdoor physical events often create 'losers' as well as 'winners', which means that they do not work for everyone.
That's why we focus on indoor team building activities that are designed to be enjoyed by everyone.
Our events are not weather dependent so success of your team building session is guaranteed.
The indoor environment is perfect for team building. We find that groups focus better on the facilitators and other colleagues without the presence of external stimuli or distractions. Also, especially for music-based events, walls create a much clearer, reverberant and cohesive sound.
We can come to you!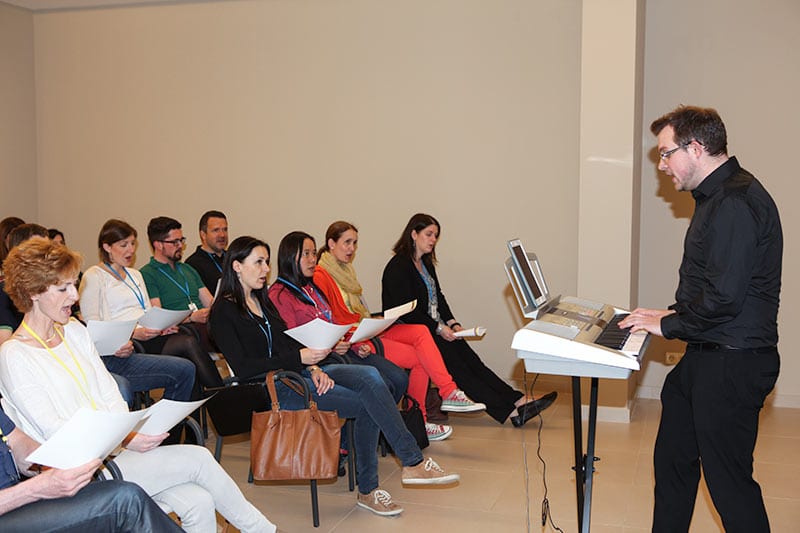 Team building inside means no need for change of clothes, or a move to a new location, which takes time and money.
Our activities are very cost effective. We specialise in using your existing meeting room, office or conference hall. All of our activities have been designed to work where space is at a premium.
Even though we are are using your location (such as a meeting room), by virtue of our team building activities and the way they are facilitated, we will totally change the feel of, and peoples' perceptions of, that environment. This makes for a very useful business metaphor.
Proven indoor team building activities that really work
Please don't take the risk with a non-proven indoor team building games, which may prove disastrous. We offer a large portfolio of well-tested  activities for the great inside. Each of these has a proven track record with a broad range of groups and organisations. To ensure success time after time, our indoor team building activities share a set of common ingredients:
involvement of everyone in your team, regardless of language, culture, job title or fitness level
immense fun with laughter and enjoyment in abundance
world-class facilitators with extensive training and experience
creative performance-related team activities, which enable people to learn a new skill and work together to create an amazing end result.
With more than 20 years of experience, we're happy to share our experiences from thousands of team building activities and games to make your own team building indoors a great success. We have delivered activities for more than 1,000 of the world's leading companies. You can rely on us. In our 20-year history, we have never failed to deliver an event!
Your indoor team building activity will be unique
In addition to our broad range of activities, we offer a range of formats to suit any particular requirement and to ensure that your chosen indoor team building activity is unique.
We pride ourselves in being flexible to your requirements and budget. We are not in the business of delivering 'off-the-shelf' events and want to work with you closely to define an event unlike any other.
From the first phone call or message, we will listen to your requirements, concerns and aspirations. This is the Creative Team Events difference. Whatever your budget, we believe that we have the perfect activity for you.
Total flexibility in terms of team size, session duration and location
If you've already had a look at some of our indoor team building activities, you'll see that they all share huge flexibility in terms of:
team size
session duration
location.
As described in our team building for small groups page, we are very happy to provide indoor activities for teams as small as five people. Equally, we are at home delivering events for up to 5,000 people, as described in our team building for large groups page.
Each of our activities has numerous formats with different durations to ensure that we fit perfectly into your agenda. So, if you are looking for a 10-minute activity or a full-day team building experience, look no further.
We regularly travel across the UK and worldwide to deliver our activities, so location is absolutely no obstacle.
Download our PDF brochures
Please feel free to download our PDF brochures for some of our most popular indoor activities by clicking on the following link:
Please fill out the form below to get a quote
"We can deliver your best ever team building event. If you'd like a quote, with absolutely no obligation, then just enter your details below and we'll get back to you as soon as possible."
Lisa Hayes, Director of Creative Team Events
Full contact details are on our Contact us page.
Pages you may be interested in: