We specialise in team building for small groups – providing fun and unique activities that are specifically designed and optimised for small groups or teams. These provide a friendlier and more intimate way to bring individuals closer together in an entertaining and non-confrontational way. We always relish the opportunity to work with small groups and have developed, over more than 20 years, a wide range of cost-effective team building activities and games that are ideally suited to groups with as few as five members.
Please get in touch for more information and we're happy to share with you lots of team building ideas that work perfectly with small groups. You can contact us by phone, contact form or email. Full contact details are on our Contact Us page. We can provide a no-obligation quote for any activity within an hour. Get a Quote now!
Friendly and intimate team building for small groups
We recognise that most event companies focus on higher-cost team building for large teams since they generally involve larger budgets. However, it is not the case that all traditional team building options require a significant number of people to be present.
We are happy to provide activities and games to foster team building in small teams, with as few as five participants. We believe that, compared with a large team, working with a smaller number of individuals often provides a much better opportunity to achieve a step-change in team effectiveness and interaction.
Smaller groups can become cohesive more quickly, and everyone has a line-of-sight view of all other participants.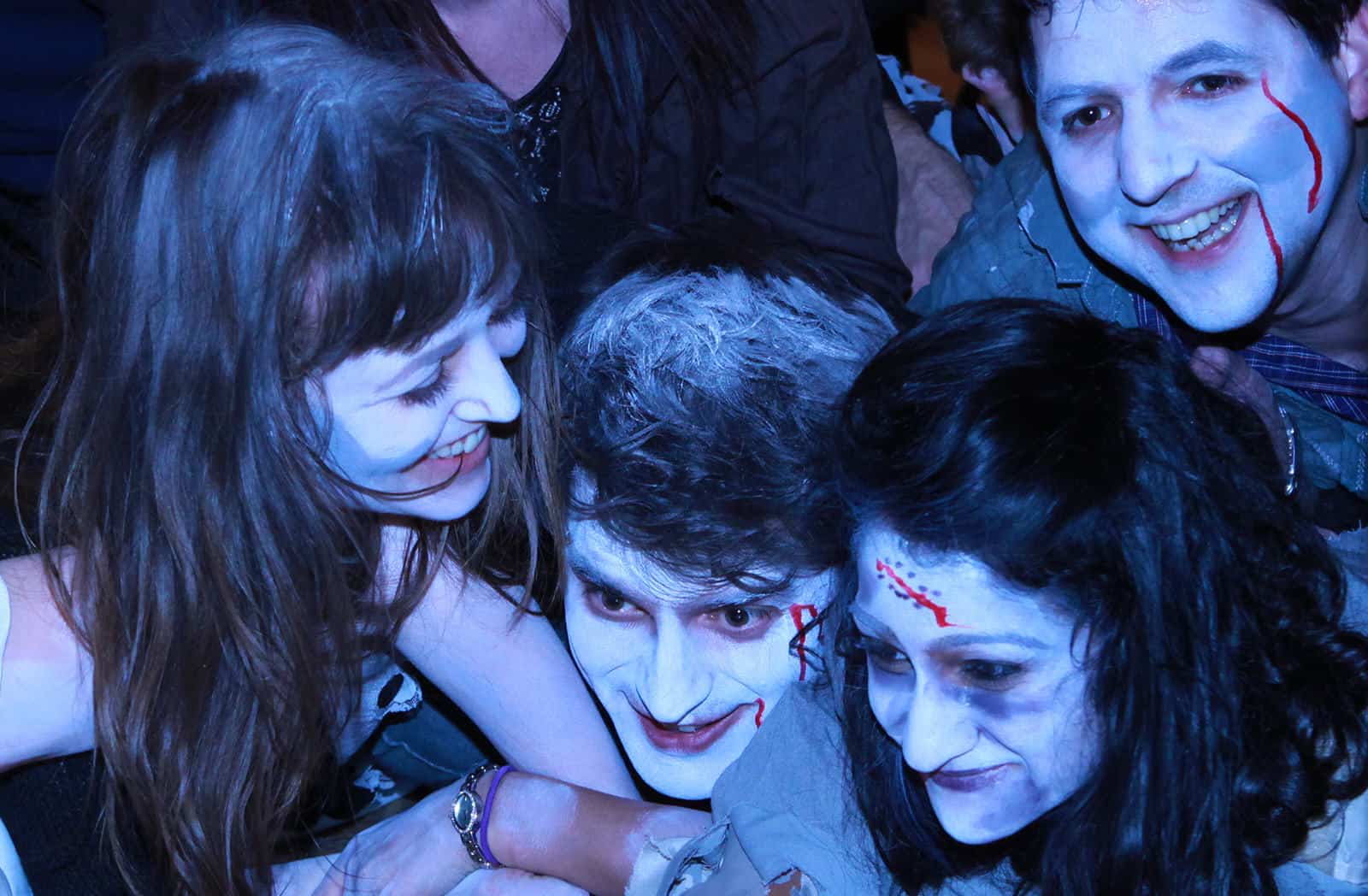 Deeper team building experience with smaller groups
As much as we love delivering large events, with hundreds if not thousands of participants, it is really special when a small group of people lock together to achieve whatever is put in front of them.
The greatest benefits in team building for small groups are knowing that each team member plays a crucial part in the success of the group as a whole and the special feeling of being connected.
Our facilitators are absolutely passionate about whatever speciality they excel in and are skilled at getting the most from a small group. Generally, with fewer people, they can spend more time teaching or instructing individuals. This means that each participant gets not only a deeper understanding of the task at hand, but more of the actual experience also.
Cost effective and easy
From event organisation and logistical perspectives, team building for small groups couldn't be more cost effective or easier. With groups under 30, we do not require vast PAs or microphones to be heard, and space requirements are very modest.
It can be beneficial having a different room to move into for the team building session from your main meeting room since we can secretly set up and prepare, keeping the activity a complete surprise up until the last minute! However, this isn't essential and this is sometimes just not possible, so we have developed formats to instantly bring the activity to you in your one main meeting room.
From a venue perspective, even if you choose one of our performance-based activities that does produce sound, such as drumming, sound levels with small groups tend to be much less of an issue with surrounding meetings or conferences.
Great choices of options for small teams
Most of our activities have been designed to work well with small teams.
Drumming is perfectly suited to a small number of participants, and as few as five people can produce an unbelievable room-filling sound and rhythm. Drumming continues to be one of the most popular choices for small teams. Drumming has such depth and endless variations. Your group will be amazed at just what is possible to learn in a limited time and the rates of growth in confidence and ability of your team!
Our Junk Funk option provides an interesting alternative to our drumming events, using everyday scrap as instruments!
With our Boomwhackers option, you will be amazed how your group is able to produce such an amazing performance of sound and colour. Thriller also works fantastically with small groups, as this is exactly how it was performed on the famous music video and the West End show version. Supporting each other and working 'in sync', novice dance troupes go from strength to strength together.
In addition, you can choose from special versions of any of our events, which have been specifically designed to work well with few participants.
Team building ideas for small groups
Below are three case studies of recent team building events held with small groups. Over the last 20 years, we have developed a great range of team building activities that are specifically suited to smaller groups. We hope that our examples give you some inspiration for how you might turn your next team meeting into something really different.
Case study one: Full day Team Apprentice for 20 people
A small group got to experience a whole range of fantastic challenges, which had participants building, baking and making things – all against the clock and under the scrutiny of our every watchful judges, just like The Apprentice TV show. We designed the day to have two opposing groups to resemble the TV show and add some tension of friendly competition. Each participant had had the chance to try many new things and to see their colleagues in a new light.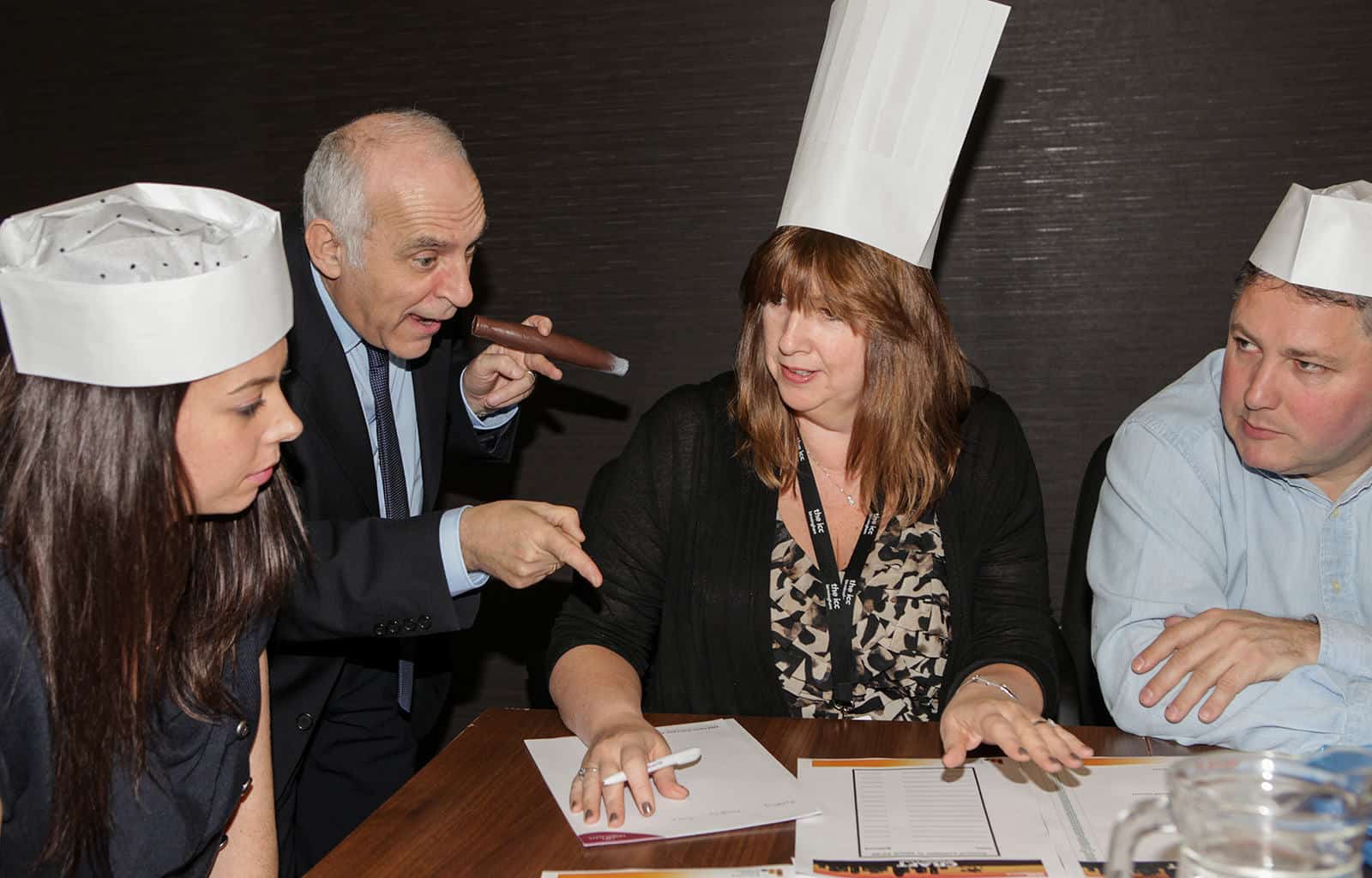 Case study two: Junk Funk with surprise busking ending for 15 people
To prove that events can take place anywhere, we were asked to transform a small group having a last-minute meeting above a bar in central London. We gave the group the challenge of leaning how to become a Stomp-style junk band. Once they had all the rhythms and choreography put together as a performance, we let them into the finale secret. Their own managers wanted them to go outside, set up in the street and deliver their new performance as buskers! They earned the princely sum of seven pounds!
Case study three: Chocolate making with nine people
To finish a long day of meetings, a small group got to unwind together first by watching our professional chocolatier creating delicious treats and then getting some hands-on instruction. Once the basics were under their belt, they had a light-hearted competition against the clock, finishing the day with a glass of champagne and a wonderful assortment of their chocolate masterpieces!
Please contact us now!
"We'd love to help you, whatever stage you are at planning your next event. We're happy to provide further information, ideas or a quote. Just enter your details below and we'll get back to you as soon as possible."
Lisa Hayes, Director of Creative Team Events
We treat your privacy seriously. Read our Privacy Policy.
You can also contact us by phone and email. Full contact details are on our Contact Us page.
We can provide a non-obligation quote within an hour. Get a Quote now.
Pages you may be interested in:
Executive Team Building  |  Team Building Events  |  List of Our Events