Fun and unique conference energisers for your best ever conference
We offer a proven range of conference energisers that will quickly invigorate your delegates and reinforce your conference themes. Everyone will have fun! Our unique energisers have been specifically designed for conference environments – delivering incredible results in a short space of time, and with minimal set-up and clearing away required. We offer flexible event durations, from ten minutes to several hours if required, to deliver your best ever conference. Get a quote whatever stage you are at planning your next event. We can provide a quote within an hour. Full contact details are on our Contact us page.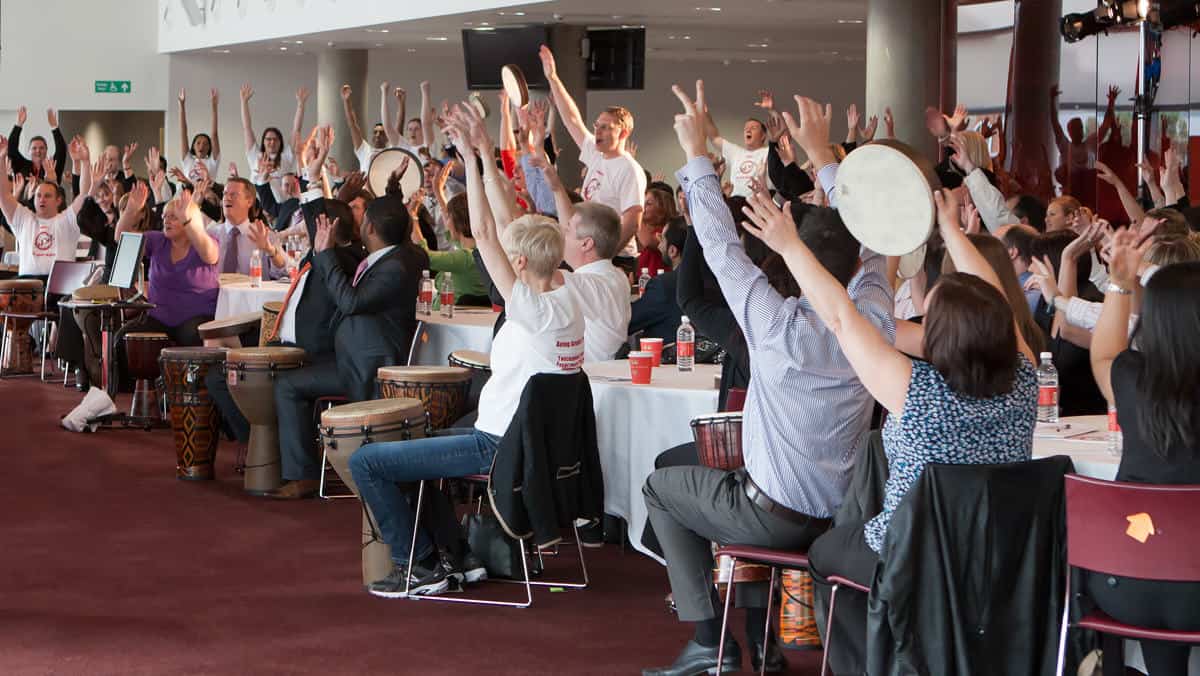 Our conference energisers can transform your delegates
Invigorate your conference and inspire your delegates, at any time, with our range of activities. You may choose to motivate delegates at the beginning of your conference, or banish the concept of a 'graveyard' slot straight after lunch by ensuring delegates stay wide awake and alert. Alternatively, you may choose to enthuse your delegates at the end of your event, leaving delegates uplifted and enthusiastic.
We specialise in a range of music-based energisers, and we do not rely on external agencies or companies to deliver them. We offer complete flexibility, in terms of location and event duration. We have a track record of delivering unique activities for conference across the globe. We offer energisers lasting from ten minutes upwards. The size of your conference is no problem as we can comfortably deliver activities for up to 5,000 delegates (or even more).
A compelling range of options
We offer a range of high-impact, interactive conference energisers and here are some of our most popular.
Boomwhackers
Boomwhackers provide a perfect conference energiser, lasting for ten minutes and upwards. Minimal set-up and clear-away times minimises the disruption to the flow of your conference and avoids any lull in proceedings.
It only takes seconds for these colourful plastic tubes to be handed out to tens, hundred or thousands of delegates.
With our high-tempo facilitator, delegates will quickly deliver a colourful music spectacular, and have lots of fun along the way.
Clap Happy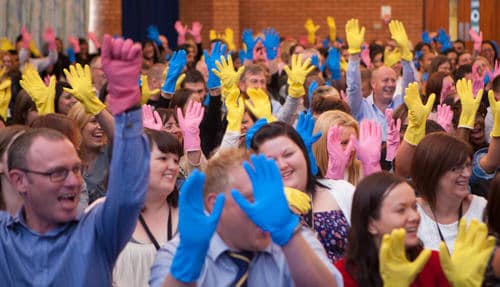 Clap Happy lasts from ten minutes and is suitable for an almost unlimited number of delegates. It provides a marvellous mixture of of colour, sound, energy and fun. All delegates are issued with coloured rubber gloves. Led by our experienced in-house facilitator, every colour follows a different clapping rhythm to form a colourful clapping orchestra.
Delegates get to keep their rubber gloves as a reminder of the event so there is absolutely no clear-up time required.
Junk Funk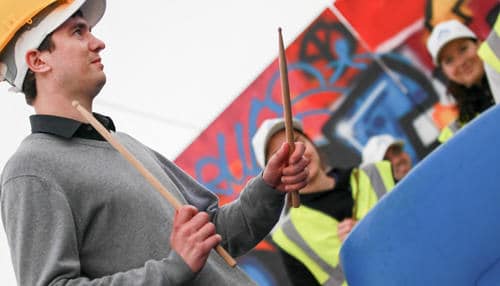 Junk Funk is an exciting activity, which lasts for 15 minutes or more.  It transforms your delegates into a high-intensity orchestra using items of scrap as instruments! Our Junk Funk scrap orchestra requires very little time for setting up, or clearing away. We can deliver Junk Funk for up to 5,000 delegates.
Haka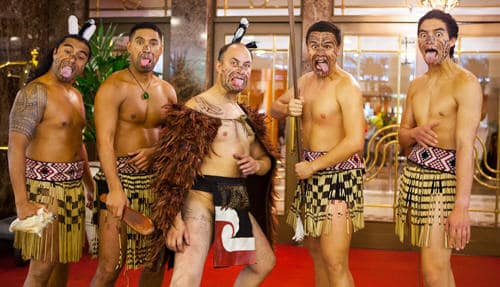 Haka is a dramatic conference energiser. There is no set up necessary and no equipment to dismantle. Within seconds, all delegates are on their feet and are led by our authentic Maori Masters to learn and perform the Haka together.
We are one of only two companies to have received authentication from tribal elders in New Zealand to offer these events.
Drumming
Drumming remains a perennial favourite among our clients. Delegates enter the conference room in total disbelief as they find a drum on each seat. Our in-house drumming facilitator entertains delegates and quickly turns the diverse audience into a magnificent, coherent drumming orchestra.
Clients have the option to purchase the drums as a give-away to delegates, which means that no time time is required for clearing away.
For more information about any of our conference energisers, please contact us to discuss your requirements. Get a quote with absolutely no obligation.
Full contact details are on our Contact us page.