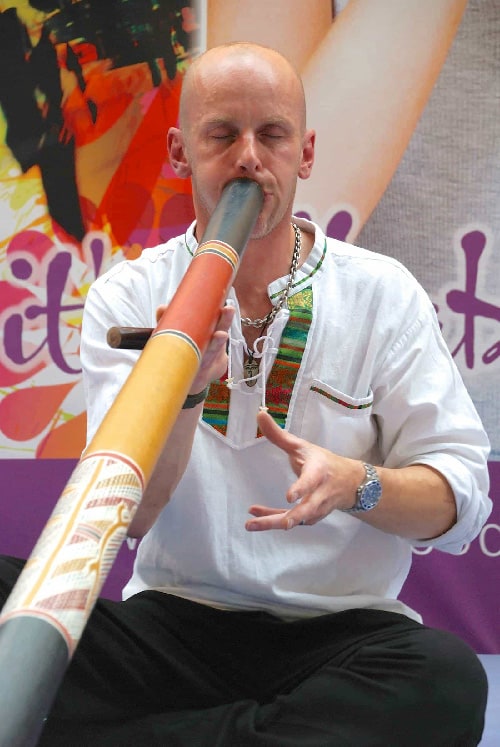 There are few instruments on Earth that immediately bring a smile and a sense of wonder to the face when heard; the didgeridoo is one of them. That haunting drone immediately brings visions of nature and the mysterious wild. Now you and your team, or even an entire conference of delegates, can learn together from one of Europe's top exponents of this most ancient of instruments.
As a team building activity or conference surprise, having everyone learn the didgeridoo together, and support one another in this new challenge, is a metaphor for teamwork in business and adapting to change. Teams walking back from coffee or lunch to find this wonderful sound emanating from their room is one thing but to then hear this is what they will learn next is something else altogether.
Will your team step up to the challenge? For more information, ideas or a quote, please get in touch by phone, contact form or email. Full contact details are on our Contact Us page.

Group size:
5 to 500

Typical duration:
30 to 90 mins
Ice breaker or energiser
Take this amazing skill and didgeridoo home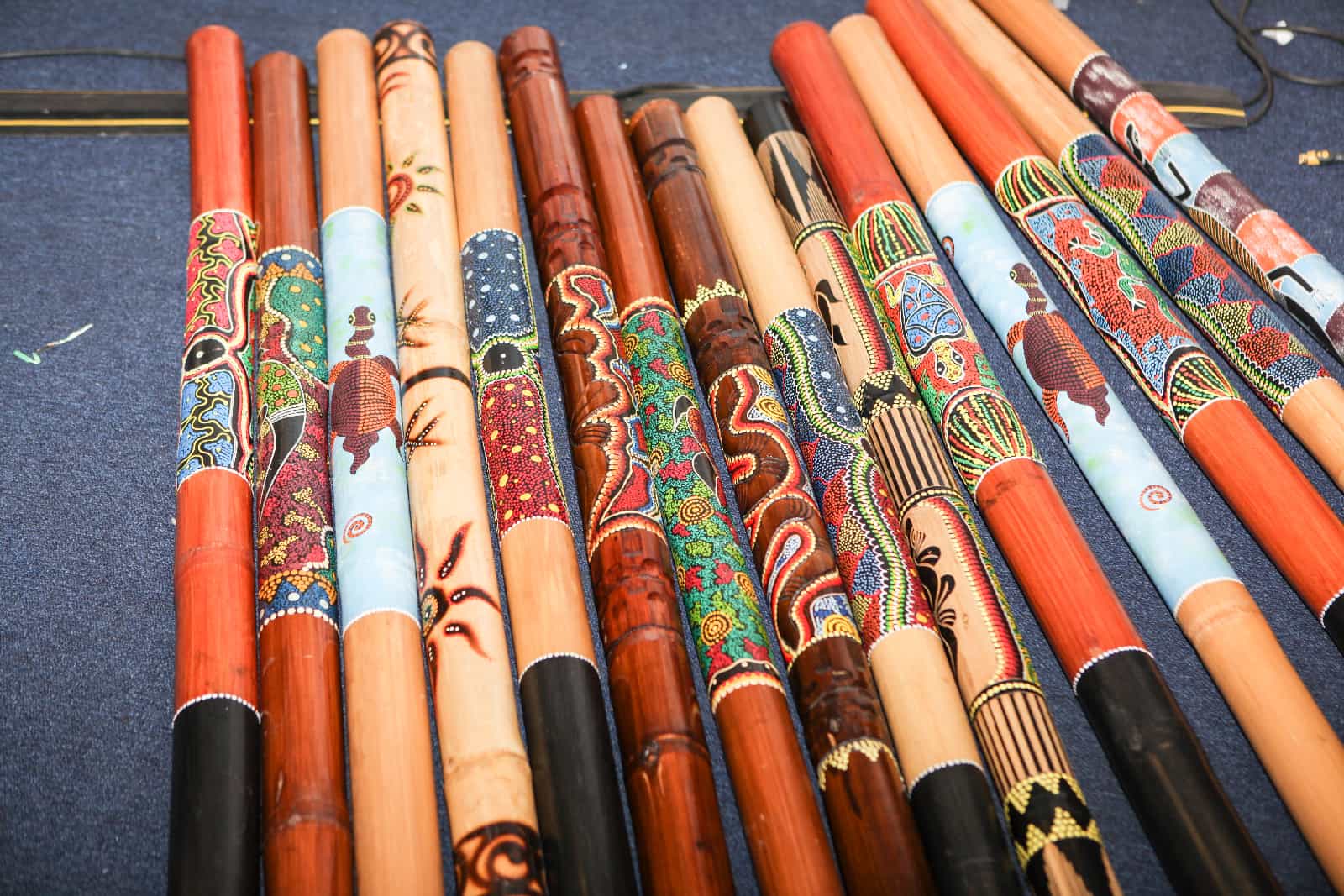 Every participant will go home with their own didgeridoo as a giveaway. This means that members of your team can continue to practise and perfect this brand new life skill. Having a didgeridoo in the office or home is always a talking point and a launch pad for a new party piece!
Choosing individual didgeridoos that visually appeal to each participant is your group's very first task. We bring a range of beautifully hand-decorated Free Trade instruments and its then up to participants to look, touch and feel for the one that is just right for them.
The didgeridoo is steeped in myth and legend. Aboriginal tribes have for millennia used this amazing sound in ceremonies and communication. You will learn the fascinating story of this tribal art form as part of the event.
Watch our video
Click on the play button below to watch a video of a recent didgeridoo event.
Learning the technique
This is where the real fun begins. To achieve that distinctive low drone from the didgeridoo, everyone needs to relax, loosen the cheek muscles and blow a slow controlled raspberry. As you can imagine, this makes for a variety of hilarious squeaks and honks! It is then up to every individual to listen intently to the instructions given to gradually master the breath and shape of mouth to achieve the desired sound.
This is where focus and determination come in. Some people get the sound straight away; some people need to dig deep and concentrate. What does happen instinctively to the group, however, is that individuals help and support each other.
Once participants have control over their wonderfully sonorous didgeridoo, they will be shown how to add variations, traditional animal sounds and rhythms on top. This is where they can create their own style and voice.
The final step
It is important to us that everyone leaves with at least a rudimentary understanding of the most unique technique of the didgeridoo, which is circular breathing. The art of learning to keep the famous didgeridoo sound never ending is done through a system of breathing that does take some time to master. However, by really absorbing the information given to you, the basics are there for you to take in and practise at a later date. Remember, this is just the beginning of participants' playing life with their very own didgeridoo!
The session comes to a close with a combined orchestra of didgeridoos. Our didgeridoo expert will layer all individuals together to create an amazing sound. Collectively, participants will bring together everything they have learnt into one final group performance.
Unexpected health benefits from didgeridoo playing
As well as providing a fantastic group team building experience, there are some extra benefits for participants learning the didgeridoo, including an increasing number of health-related positives.
By playing this instrument, participants create vibrations around their lips. These reverberations travel around the nasal cavity and sinus passages, helping anyone who is congested. Studies published in the English Medical Journal have confirmed that didgeridoo playing and circular breathing in particular strengthen the larynx and the muscles supporting breathing, which can reduce or stop snoring. Furthermore, continued playing of the didgeridoo can enhance lung capacity, which can be very useful for asthma sufferers.
Playing the didgeridoo can also help manage stress. Once someone has the basic ability to play the didgeridoo, it can be a very effective personal activity to bring calm and clarity to the mind. Just the act of sitting and concentrating on breathing to create the peaceful drone sound can be a type of soothing musical meditation. Just as many types of yoga and wellness seek to control the breath to bring about a feeling of stillness, with practice on their very own didgeridoo, participants can achieve quick and no-fuss stress relief at home.
So, if you want to try something completely different and definitely not just have another day at the office, do it with a didgeridoo!
Please contact us for help, ideas or a quote
"Whatever stage you are at planning your next event, please get in touch for help, ideas or a quote, under absolutely no obligation. Just enter your details below and we'll get back to you as soon as possible."
Lisa Hayes, Director of Creative Team Events
We take your privacy seriously. Read our Privacy Policy.
You can also contact us by phone or email. Full contact details are on our Contact Us page.
Pages you may be interested in: