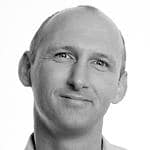 One of the benefits of drumming events, especially in a conference situation, is that you can entertain and influence large numbers of delegates in a single room. I cannot think of many other activities that are practical to do with 500+ delegates in a single space that do not require extensive budget, technology or elaborate equipment.
We were put to the test when, one day, we received an enquiry for an event with 1800 delegates. Our clients actually requested a mixture of drums and world percussion, as this fitted better with their conference message, but the logistical challenges were identical. How would we get all these separate items to every person when the entire allotted time, including the activity itself, was only 25 minutes?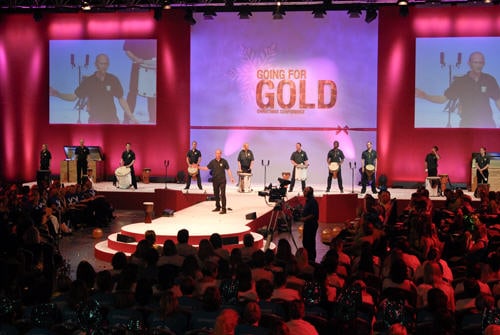 We pride ourselves in being able to set up our drumming events in a matter of minutes. Participants often come back, after a comfort break or lunch, to find a completely different room than the one they left, filled with stunning drums and a completely new seating plan. To accomplish this, you can often find us hidden inside adjacent rooms, kitchens, cupboards or whatever it takes to maintain the surprise and get whatever equipment we have into the room. However, 1800 items – some of them being a metre in height – is a big challenge, even for us!
Normally, we set up a room beforehand. On this occasion, however, this was not possible, as this was the finale section to the conference with no comfort break or gap before our part in the agenda. All instruments had to be brought into the room, and distributed to participants…very quickly.
Back stage at the Telford Conference Centre, in true military style, we had over 50 staff, each primed and practised in deploying huge drag bags containing the correct ratio of drums and percussion. Each massive drag bag was assigned an order and a specific seating row so that, en masse, instruments could be distributed within five minutes.
Then it was show time! As our small performance group entered the stage playing drums together, the audience response was overwhelming. This was a huge award ceremony so spirits were high to say the least. As head facilitator, I used the thunderous applause and converted it into a steady pulse that became our clapping ice breaker. Up until then, the audience believed that we were nothing but a performance group. Right on my cue, all 50 staff ran out into the arena and started to distribute all our instruments from the prepared bag containers. The entire crowd went crazy.
From the stage, the sight was amazing. In perfect synchronisation, participants on each long seating row passed the instruments along as part of a perfect human chain. To this day, I have never seen anything like it. As planned, all instruments were distributed in under five minutes. Though the session was short, we had everyone playing together in seconds and we certainly had a wild time with this totally charged-up group. It was a perfect high energy climax to an already dynamic conference.
I must confess it took considerably longer than five minutes to collect and put away all the instruments once the delegates had left the room!
For more information about our team events, please Contact Us now.
Pages you may be interested in:
Drumming Events  |  Conference Ice Breakers |  Blog Homepage |  List of Our Indoor Events