We deliver fun and unique conference ice breakers that are proven to work. We provide activities that have a track record of breaking down barriers and encouraging delegates to work together.
They use the simple, but totally effective strategies of shock, surprise, fun and laughter to transform your conference.
In just seconds, our expert facilitators can dramatically change the environment, the atmosphere and the potential of any group in any size of room. They can last anything from ten minutes to more than an hour, to suit your requirements and agenda. Get a Quote whatever stage you are at planning your next event. We can provide a quote within an hour. You can contact us by phone, email and contact form. Full contact details are on our Contact Us page.
Watch our video
Watch our video below, by clicking on the play icon, for information about our conference ice breakers.
Four amazing ice breakers
While we offer a huge range of options, here we outline our top four most popular conference ice breakers that are guaranteed to raise the roof!
Clap Happy
Clap Happy is a highly-effective conference activity, combining sound, energy, fun and colour. Delegates are initially handed coloured rubber gloves. Then, our charismatic expert facilitator works with each colour to produce a unique clapping rhythm.
Next, these individual rhythms are woven together to form a majestic aural and visual spectacle. As a bonus, delegates can keep their rubber gloves as souvenirs of the event.
Boomwhackers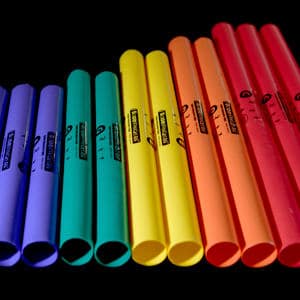 Boomwhackers are always extremely popular, for a duration of ten minutes or more. Boomwhackers are coloured tubes that emit a distinctive sound when struck with the hand, with different colours producing different notes. Boomwhackers can be quickly distributed to hundreds or thousands of delegates, minimising set-up site.
Our expert facilitator maintains momentum by quickly turning the room of individual delegates into a coherent musical orchestra, basking in a sea of colour.
Haka
Our Haka option gives the opportunity for delegates to learn and perform the Haka, which is the tribal ritual dance of the Maori people of New Zealand.
As we have received authentication from Maori tribal elders, we are privileged to say that our Haka ice breakers will be led by authentic Maori Masters to provide a unique and memorable experience.
Drumming
Drumming is a perfect conference activity that has retained its popularity for many years, combining surprise with an uplifting finale. On entering the conference or meeting room, delegates are initially shocked to find beautiful drums on their seats.
What follows is a highly entertaining ice breaker, which transforms the room of disparate delegates into a resplendent rhythm orchestra.
Our most popular ice breakers involve movement, rhythm and music. Physical action helps to dispel initial nervousness among delegates. Communication through rhythm and music removes any language or cultural barriers. Our ice breakers often build up to a final crescendo where the conference room is awash with colour and sound, to demonstrate how individuals can work together to produce an amazing result.
We have specially designed interactive activities that can fit between speakers in a conference, as a breakout session for any meeting, or simply to kick-start a corporate event.
Cost effective and perfect for a conference environment
Our conference ice breakers are very cost effective, particularly for large groups, and we regularly provide them at conferences with groups up to 5,000 delegates.
They have been specifically optimised for conference environments and have minimal set-up and clearing away times. We guarantee that everyone will have fun.
Different, fun and unique
We pride ourselves in offering ice breakers that are:
Quick and effective. In just seconds, our expert facilitators will change the atmosphere, environment and potential of any group.
Flexible in time. Our team building ice breakers range from ten minutes to an hour or more.
Based on creative performance. We believe that the most effective team building ice breakers are performance-related activities.
Highly effective at team integration. Team integration that might take many days to achieve normally can be substantially accelerated, for everyone's benefit.
Linked to your business objectives. By putting effort into understanding your specific objectives, we can deliver key business messages through our events.
Fun and enjoyable for participants. Shock, surprise, fun and laughter are our simple but totally effective strategies to transform your event. Everyone will love it!
Ice breakers can provide significant benefits but there are big risks
Conferences often bring together people with different personalities and at different organisational levels who do not know each other. Delegates can be from different cultures and and/or speak different languages. Ice breakers can play a critical role at a conference, particularly at the beginning of an event, by helping to reduce barriers between people. They can make delegates more receptive to conference messages and co-operating with each other.
Despite the obvious benefits, it can be difficult to make a conference ice breaker work, particularly when there are large numbers of people present. Badly done, an activity may make delegates cringe and feel extremely uncomfortable, defeating the objective in the first place! Regular conference goers often remember witnessing an ice breaking activity that went badly wrong, despite the best intentions of the conference organisers. Ideas that may have sounded great on paper can end up being boring, tedious and excruciating for delegates.
If you are a conference organiser, don't take the risk of delivering an ice breaker activity yourself. Please consider letting us deliver a proven activity for you. We have over 20 years of experience of delivering unique and fun ice breaking activities at thousands of conferences worldwide.
Ice breaking activities that will be remembered
With a track record of delivering activities in conferences across the UK and worldwide, we can deliver a memorable ice breaker that will be enjoyed by everyone. Our ice breaking activities will be remembered for all the right reasons as we leave nothing to chance.
We offer a selection of well-proven activities that are thoroughly enjoyed by a broad range of people and are highly effective at bringing delegates together and 'breaking the ice'. They are facilitated by our own in-house team of experts who have many years of experience. We do not rely on external agencies or companies.
We specialise in interactive music-based ice breakers, as the combination of action, sound and movement quickly allows delegates to relax, enjoy themselves and buy into the purpose of the conference.
While we guarantee that fun and laughter will be in abundance, we can ensure that your activity reinforces your specific conference themes.
We are totally flexible on location, the number of delegates and the duration of your activity. We can travel to absolutely any location in the UK, USA or worldwide. Any size of conference or meeting, up to 5,000 delegates or more, is possible, with any duration from ten minutes upwards.
All our sessions require minimal set-up and clearing up time, so you are on to your next event objective with no fuss or loss of time.
Banish that bleary-eyed 9am feeling or invigorate that post-lunch 'graveyard slot'!
Organising any conference takes you and your company time, effort and money. It is crucial for you to maximise the benefit of the time your people are out of the office or shop floor. Our conference ice breakers are effective ways to transform that bleary-eyed 9am feeling, or the after-lunch slot, into a dynamic introduction or energising restart. They allow you to get on to the real information or business of the day with the full attention and enthusiasm of your participants.
Please fill out the form to contact us
"We'd love to help you, whatever stage you are at planning your next event. You can get in touch by entering your details below and we'll get back to you as soon as possible."
Lisa Hayes, Director of Creative Team Events
You can also contact us by phone and email. Full contact details are on our Contact Us page.
We can provide a no-obligation quote within an hour. Get a Quote now.
Pages you may be interested in:
Team Building Ice Breakers  |  List of Indoor Events  |  Indoor Team Building Activities