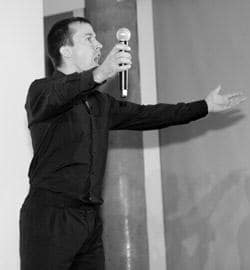 For the last five years, we have been using singing as a team building activity, meeting ice breaker and conference energiser. In this post, I speak to Nathan Taylor, our head vocal coach. The human voice is the oldest instrument known to man and the most personal signature we have. It has the power to provoke every human emotion. Singing and songs are an integral part of our history as a civilised culture.
Everyone has a favourite song, where the words or melody just take them off to another place. I bet almost all of us sing under the cover of our shower in the morning or sing to the radio in the car.
With the never-ending  popularity of TV talent shows based around members of the public getting on stage to sing, it didn't take too long before companies saw this as a new, fresh approach.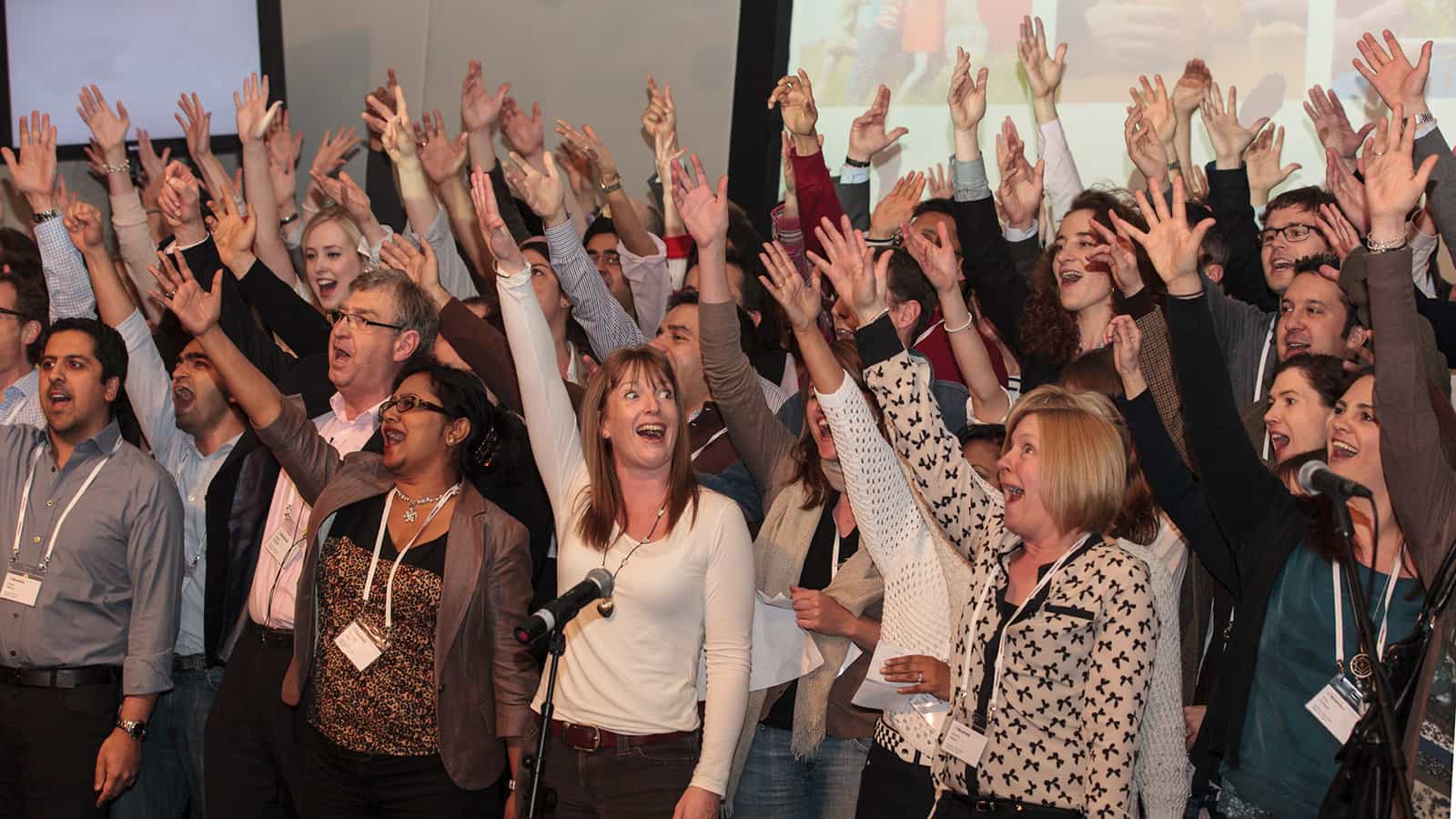 Singing can be incredibly powerful as a group experience and still fit effortlessly into a conference or meeting agenda. We believe that our singing workshops are a perfect teambuilding activity, because all the right components are there:
singing is something that everyone can do
singing together initially creates apprehension
groups become increasingly confident together
very little set up is required, and everything can be done in one room if breakout rooms are not available
there is a fantastic 'pay off' when everyone performs together.
Where possible, we suggest a format where a group is split into three separate sections. Each sub-group gets its own musical director/vocal coach who leads them through an entertaining voice warm-up and then begins teaching a particular melody or harmony part of the chosen song. We bring all three groups back together to create one complete song, as part of a spectacular finale.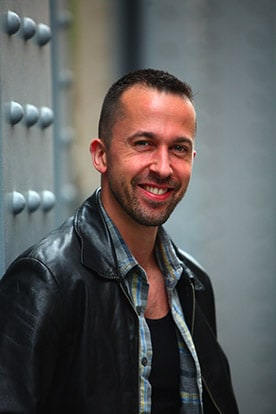 Nathan Taylor is our head vocal coach and has many years of experience of taking people from being novices to effective singers, sometimes in under an hour! He has also performed in many West End shows, including Les Miserables, Miss Saigon, Rocky Horror and Mary Poppins.
I asked Nathan a few questions.
Mark: "Nathan, is it true that anyone can sing?"
Nathan: "This is quite a contentious question, but yes I genuinely believe that anyone can sing. A lot of people firmly believe that they can't. They're wrong, in my opinion, and, in our sessions, I prove it to them!"
"I wholeheartedly believe that the only reason people can't sing is because they DON'T sing. It only takes practice and confidence, and anyone can become rather good. Obviously, I'm not saying that everyone has the potential to be Pavarotti, Freddie Mercury or Whitney Houston (in her prime!), but anyone can improve. It's like going to the gym. You start off with nothing but, by working out, your muscles grow to cope with the workload. Singing is exactly the same. The tiny muscles that produce the voice need to be exercised in order to get stronger. Simple biology, really."
Mark: "Why do you think people are so self-conscious about their own voice being heard?"
Nathan: "Too many people carry with them a memory of someone, at some point in their life, telling them to "shut up that horrible racket!" or a similar cruel and unthinking  jibe. Also, people are often branded too quickly in school music lessons and it stays with them for life."
"Singing is something very personal. It comes from within. Spontaneous singing is an outward expression of inner joy, and to be told that your joy is an unattractive or unpleasant thing is very hurtful. People remember that sort of comment, and take it to heart. The end result is that they feel embarrassed for showing that joy, and they keep it bottled up inside."
"The playwright Arnold Wesker once said, 'Never stop someone from singing. Stop their singing and you stop up their joy.'"
"The key is to overturn past slights, and make it alright for them to sing again."
Mark: "What do you do to achieve that breakthrough and create performances in a teambuilding context?"
Nathan: "That's very easy to answer. We give people permission. We set up a safe environment, where they don't fear ridicule, and we work on making them relaxed and comfortable – usually by making ourselves look like fools, which shows them that it's OK to do anything without embarrassment."
"Through having fun, we get people to understand the very basics of what you need to do to be able to sing, and suddenly they're doing it, without even realising it! I'm sneaky that way!"
"The key is to take away all the pressure of having to be good, and just let people be as good as they naturally are. Without that pressure, they soon realise that they can be better than they ever thought they would be. That's the best moment for me. The realisation that, after so long thinking that singing was for other people, that it is very much for them, and, what's more, how much joy there is to be had from dropping those barriers and letting go. Magical!"
"There's nothing more gratifying to me than being able to give back to people the gift of singing. I say give back because it is something we all have as children but, for too many people, it gets taken away through later life, by insecurity or external influences."
"Singing is such a joy, and singing as part of a large group is extremely rewarding. To be part of such a large outpouring of joy is an infectious experience, and one that always lifts my spirits, as well as those of everyone else. Particularly when you combine that innate pleasure with the sense of triumph that accompanies the knowledge that one has overcome an obstacle, it's a winning experience for all. I love what I do!"
For more information, please Contact Us now.
Pages you may be interested in:
Team Building Singing  |  Blog Homepage  |  List of Our Indoor Events  |  Indoor Team Building Activities