Have your own Team Olympics – indoors or outdoors!
Your team can now take part in a set of thrilling games with our brand new team building activity. Will your teams have what it takes to win? We bring all the excitement, pressure and glory of the world's greatest sporting events and add our own creative twist. We can provide this brand new event in any location, in the UK or worldwide. For more information, ideas or a no-obligation quote, please Contact Us now!

Group size:
20 to 300

Typical duration:
2 hours to half a day
Team building activity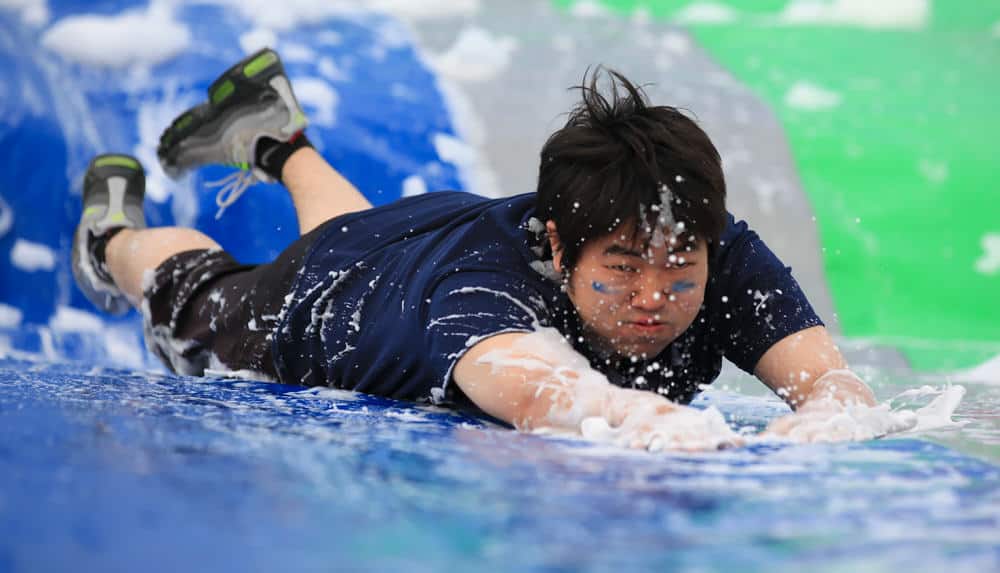 Creative team building games
Here's your opportunity to harness all the excitement of the world's greatest sporting events to energise and motivate your team, and bring people together.
Forget gruelling, intense outdoor physical challenges, which many of your team may not enjoy. We offer a totally creative alternative, with an exciting range of team tasks that culminate in head-to-head fun competition, which has been specifically designed to engage everyone.
Total flexibility to make your team activity totally unique
Our team building event is totally unique. With the emphasis being on your team having as much fun as possible, we have created diverse physical and mental challenges that will require your team's extroverts for some and your methodical task-focused members for others. To succeed, all the strengths of your team will be called upon.
As demonstrated in our recent blog article, we offer our clients the option of creating bespoke activities within the event itself to suit the characteristics and interests of their teams.
We also offer flexibility in the location and duration of your team games. We can deliver events anywhere in the UK, USA or worldwide. We have provided tens of thousands of creative team events worldwide over the last 15 years to more than a thousand companies. This fun event works with groups of all sizes, ideally between 20 and 100 people when indoors, with the option of increased group sizes if set outdoors.
On your marks….get set…..GO!
We promise that your event with be full of fun, entertainment and laughter, and your team will be filled with the true spirit of Games success.
After a welcome briefing and a light warm-up ice breaker, your group will be divided into teams, each of which will depart with their Head Coach to their separate training camp.
In their individual rooms, participants will come face to face with the tasks that must be completed in time for the opening ceremony. Excessive exercise and panting are not required! We will only challenge your creative limits and imagination. Some of the tests awaiting your team will include:
creating a distinct and visual team flag/banner
writing a motivational speech to be spoken at the opening ceremony
designing and decorating your team's own unique sports kit
creating a team anthem over the music provided
manufacturing a mini ball hurling mechanism for goal scoring, from the materials provided
Just like real sports teams, you will be constantly under the stopwatch. So, your preparation time must be spent effectively, time managed properly and quality controlled to win the points and scoop the medals.
As the teams reconvene in the main room or 'arena', the Games will begin!  The visually dynamic flags, emotionally-charged speeches, ridiculously over-the-top team kit and motivating anthems will be judged by our (or your) Committee.
Prepare now for the battle where passion and the ability to work together as a team will decide the winner.  Teams will compete in a series of fun challenges, which will further test participants to their creative limits. Bringing the Games to a tension-building close will be our signature finale 'team relay' contest. Quick reactions, focus and a steady hand will be essential to complete this team challenge against the clock!
With the last points added to the scoreboard and counted, prizes will be awarded in the closing ceremony. A rousing end to a fantastic team building activity!
Please contact us for help, ideas or a quote
"If you have questions or would like ideas or a quote with absolutely no obligation, just enter your details below and we'll get back to you as soon as possible."
Lisa Hayes, Director of Creative Team Events
We take your privacy seriously. Read our Privacy Policy.
You can also contact us by phone or email. Full contact details are on our Contact Us page.
Pages you may find interesting:
List of Our Outdoor Events  |  Outdoor Team Building Activities