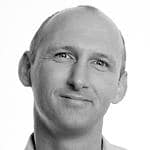 The eyes of the world will be on London in July 2012, when the Summer Olympics kick off. It was only a matter of time before the office started to receive an increased number of enquiries for Olympic teambuilding events. Yesterday evening, we launched our brand new corporate Olympics with eighty participants in North London.
I'm proud to say that, in a very short space of time, our office staff put together an entire evening of fantastic challenges, all based around the client's brief. The brief we had was to create a series of fun and business-specific challenges.
As always, we provided a number of suggestions to our client, aimed at enhancing the day, such as the groups designing and creating their very own kit to wear, as well as constructing a team banner. Getting just the right balance of fun while linking activities to the business objectives of the day is something we are always proud of.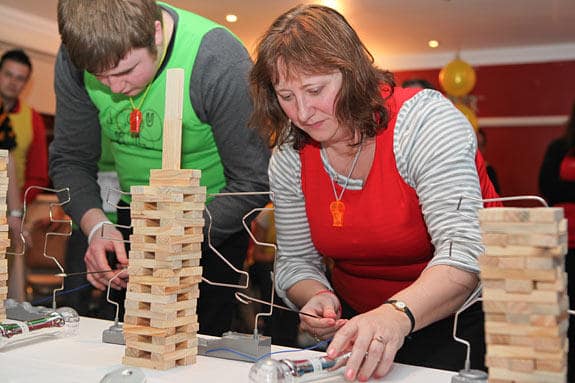 Our very own opening ceremony started as all participants were received into the main room. The highly-competitive sales group was sorted into four groups – each with their own colour and corresponding region.
After an 'athletic' icebreaker and briefing, captains were appointed for each group. Each group was given a pack that was full of challenges. Everyone left the room with their own 'coaches' (our instructors), into their own training rooms. Here the coaches gently supported their designated groups through the rest of the evening, and also recorded any penalty or bonus points!
For an amazing surprise, senior managers arrived in full fancy dress and each became a team mascot.
The interactive challenges that had been set had been carefully designed to be highly relevant to the business messages of the event.
After a two hour preparation session, with team anthems composed and many other physical and mental tasks undertaken, the final touches were made. With time running out and everything rehearsed, practised and perfected, everyone reconvened to the main arena, and battle commenced!
The roar from the crowd was deafening! The stakes were high and the medals all up for grabs.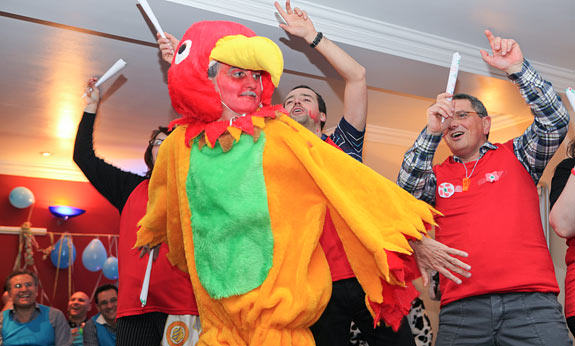 After six separate heats, including a round of very moving team motivational speeches, the medals were accumulating on the scoreboard, and the final relay was run.
This was no ordinary relay. Each section of the race had to represent the journey from acquiring a customer, building the relationship, keeping things on track and final delivery. There was a frenetic, and sometimes desperate, last push by each group to win the final medals. There was some definite bending of the rule book but, in the end, as the team captains stood proudly on the podium, it all seemed worth it!
The medals were awarded by one of the directors and, with lots of smiles and hand shaking, and then everyone departed to the bar for a well-deserved drink.
As you can see from the photographs, everyone had a super time. Even though everyone was very competitive, there was a great feeling of team spirit across the entire group.
As the countdown has well and truly started to the big day itself, please get in touch if you are interested in creating your own office, department or even company Games.
For more information, please visit our new Teambuilding Olympics page or Contact Us now.
Pages you may find interesting:
List of Our Outdoor Events  |  List of Our Indoor Events  |  Blog Homepage  |   Olympics Team Building
We would like to point out that there is no association, affiliation, endorsement, sponsorship or similar relationship with London 2012, the British Olympic and/or Paralympic teams, or any other part of the Olympic and/or Paralympic Movements.