Bring beatboxing to your conference or team building event
One person and a microphone are all it takes to totally astound your group. Human beatboxing provides an amazing conference ice breaker or team building activity. Our expert beatbox artist will perform a variety of jaw-dropping sounds effects and hypnotic drum machine beats to show the raw potential of the human voice. Then it's your turn!
For more information, help and ideas, please get in touch by contact form, phone or email. Full contact details are on our Contact Us page. We can provide a no-obligation quote within an hour. Get a Quote now.

Group size:
5 to 5000

Typical duration:
20 to 60 mins
Ice breaker, energiser and team building activity
Bringing beatboxing to the corporate world
Human beatboxing is now an internationally recognised urban art form. With worldwide competitions attracting massive followings, this unique spectacle always keeps people engaged.
Human beatboxing fits effortlessly into any meeting or conference since it has the following benefits:
– suits any size of group
– requires no external equipment
– needs no set-up time.
Human beatboxing is fun and enlightening for any age, and ability. It creates lasting team memories. Participants push beyond their boundaries and colleagues get to see each other in an entirely new light.
This exciting activity is the perfect short conference energiser or a longer team building experience. Human beatboxing is totally flexible to your needs.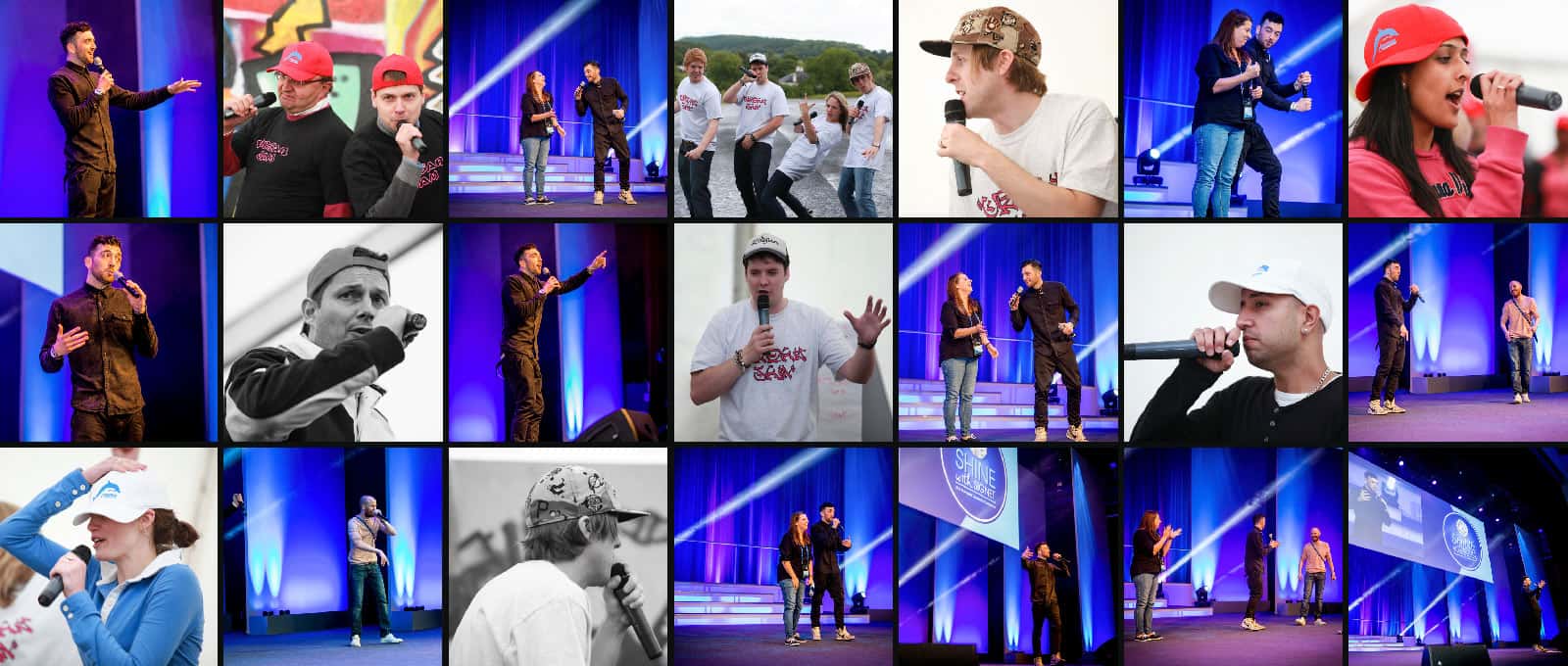 What happens in a human beatboxing session?
Our young and fresh approach to teamwork suits a new look so we can bring baseball caps and even T-shirts to get everyone looking the part from the very beginning.
Now it's time to get to work. Under the professional guidance of our expert, your group will first learn the three basic sounds to create a strong groove foundation before moving on to the many beatbox variations and the addition of well-known sound effects.
Throughout this truly entertaining session, not only will everyone learn a new skill but will quickly adapt and personalize their own human beatboxing style.
Of course, while this is all going on, there will be non-stop laughter and disbelief as participants see their work colleagues communicate in a very new way!
With the room totally buzzing with rhythm, we then add an unexpected new challenge.  Individuals, or even break out teams, have to self-compose a rap to perform on top of their beatboxing.
We reassemble to have a head-to-head performance, hearing all the wild and varied versions! Anything can happen here and there is never a shortage of unforgettable and unexpected moments.
Unleash your company's urban poets over the sonic back drop of everyone beatboxing in an unbelievable finale. Human beatboxing will make you team look different, sound different and act differently…together!
Video questions and answers about beatboxing
In the video below, Patrick answers the most popular questions and answers about beatboxing:
Please contact us for help, ideas or a quote
"We'd love to help you, whatever stage you are at planning your next event. We're happy to provide further information, ideas or a quote. Just enter your details below and we'll get back to you as soon as possible."
Lisa Hayes, Director of Creative Team Events
We take your privacy seriously. Read our Privacy Policy.
You can also contact us by phone and email. Full contact details are on our Contact Us page.
We can provide a non-obligation quote within an hour. Get a Quote now.
Pages you may be interested in:
List of Our Indoor Events  |  Conference Ice Breakers  |  Indoor Team Building Activities