Urban Jam provides a combination of urban dance, rapping and music that allows your guests to try new experiences that will break down barriers, build their teamworking and entertain them for anything up to half a day. So, bring your bling, dust off your hoody and see your colleagues as never before in the hippest, coolest team building activity available today! For more information, ideas or a no-obligation quote, please Contact Us now.

Group size:
10 to 5000

Typical duration:
2 hours to all day
Team building activity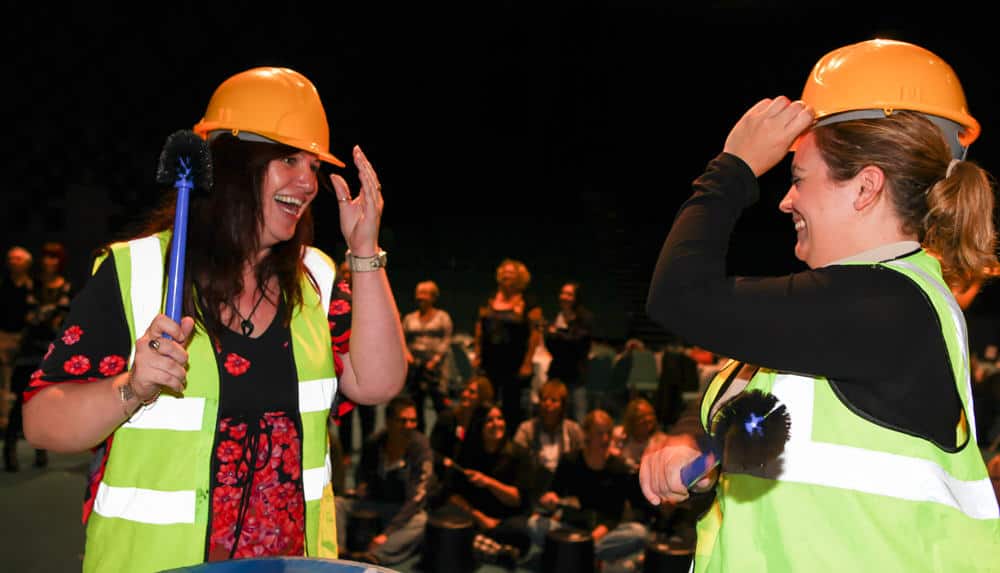 Learn junk music, street dance, beat box and rapping
During Urban Jam your group will rotate around three activities. Each of these provides a window into another world and culture. Your delegates become the coolest, hippest team on the planet – at least for the afternoon!
Junk Funk. Your team enters a room full of junk hazard tape. Our urban rhythm experts lead everyone into creating the baddest groove using everyday junk objects.
Street Dance. Your new hip group will learn some wicked street moves from a professional street choreographer. Get your bodies poppin' as your team learn a snapping routine.
Human beat box and rap. Your team learns the urban art of beat box, to sound like the funkiest drum machine. As well as learning the difference between four on the floor and a back beat, we add some rapping, so you can put all that corporate angst into words!
Finally, we combine all three activities for a super performance finale.
We also offer the option to supplement these activities with a graffiti workshop (subject to the venue's policy on using spray paints). Our street artists will show your guests the necessary techniques and help them create their own personal styles.
Watch our Urban Jam video!
We can adapt Urban Jam to your requirements
Urban Jam is great as corporate entertainment and also provides the opportunity to develop teamwork, by sharing new skills and creating a performance together.
A typical Urban Jam session lasts two to three hours, but we can adapt this to provide shorter activities, for example as ice breakers, or longer formats, to provide the opportunity to spend more time on each activity.
Please contact us for help, ideas or a quote
"If you have further questions or would like some ideas or a quote, just enter your details below and we'll get back to you as soon as possible. We strive to provide a quote within an hour."
Lisa Hayes, Director of Creative Team Events
We take your privacy seriously. Read our Privacy Policy.
You can also contact us by phone or email. Full contact details are on our Contact Us page.
Please download our Urban Jam event brochure (in PDF format) for more information about our Urban Jam events.
Pages you may be interested in: