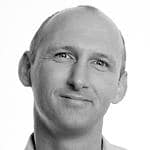 Last Saturday was a perfect example of the extremes we see in group size (and content) for our teambuilding events. My day started very early, in order to get to the Bath Spa and Resort Hotel in plenty of time. At a breakfast meeting with our client, we ran through the finer outcomes required for the ensuing session. We were about to surprise a small, senior group of lawyers with an intense 90-minute drumming event, based around the themes of adapting to change and trying new ideas.
The group of 12 strolled in a little bleary eyed at 9am. At 9.01am, everyone looked positively wide eyed as the participants realised that they were in a very new environment!
As a facilitator, leading a small group is all about managing the space around you. With a relatively small number of people, I find it really helps to create a safe, contained feel to room. This is accomplished with a combination of conducive seating arrangements, the style of facilitating body language and maintenance of good eye contact.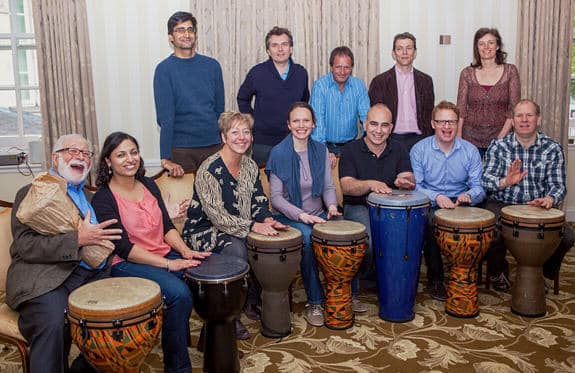 After the successful completion of this intimate teambuilding activity, I left Bath and drove up, through the countryside, to Donington Park. I arrived in preparation for a very different session, which required a completely different style in delivery.
The environment could not have been more different! In the morning, I was based in a conventional hotel room. In contrast, the evening's activity was to take place in a football-pitch-sized room, which was themed as Willy Wonka's Chocolate Factory!
There was candy hanging from the ceiling, with hundreds of waiting staff, fully dressed as Oompa-loompas. Even the pot plant mud was real edible chocolate. The sight was truly incredible.
In the next room were over 50 dining tables, decorated with high candy trees as table centres and positioned around a huge twinkling dance floor.
Bands were rehearsing, and magicians and comedians were just arriving. That evening, we were the Crashing Waiters, where we would unleash over 500 kitchen utensils and beaters with which the participants would create an instant orchestra!
Dressed as venue staff, we first had to trick the audience into believing that we were part of the venue staff. Everything went perfectly to plan! We interrupted the CEO's fake speech just as we had rehearsed. Our undercover waiters spilt all the pots and pans they carried.
Our brand new specially-designed kitchen drum trolley was in position, and Simon started filling the huge hall with his infectious rhythms. Chris and I added the two extension arms to the drum trolley, to provide us with an array of kitchen percussion. Then, Ann and Katherine jumped out of the audience to perform their dance routine on top!
The audience loved our introductory performance. As soon as we finished it, we moved onto the real business of the evening – group interaction. Within seconds, everyone in the room had their impromptu instruments in their hands.
Facilitating this size of spectacle requires much more pronounced body language and slower and clearer speech. Filling of the physical space and maintaining a continuous energetic flow are also critical to keeping an audience engaged.
For the next 25 minutes, we created an amazing, interactive rhythmical orchestra, complete with 'guest' soloists and dancers, drawn from the diners! As a finale, we had everyone in the room on their feet playing while we danced, supported by the pounding sounds originating from the drum trolley. We were surrounded by walls of event photographers and video cameras, so that the excitement of the spectacle was captured for ever.
As usual, when we told the diners that all the wonderful Ikea utensils, pots and pans that they were playing with were now theirs to keep, there was rapturous applause.
Big or small, chocolate mud or not, knowing that we had made our clients extremely happy provided a great end to a Saturday.
For more information about our team events, please Contact Us now.
Pages you may find interesting:
Team Building for Large Groups  | Blog Homepage  |   Team Building for Small Groups  |  List of Our Events