Bring the energy and teamwork of dance to your event
Invigorate your event with a company dance routine built on teamwork. Find the new Fred Astaire, Diversity or Beyonce within your team! Our professional choreographers will guide you step by step, for any event duration from 20 minutes to half a day. We guarantee that you'll be delighted.
Please Contact Us for more information, ideas or a quote.

Group size:
5 to 5000

Typical duration:
20 mins to half a day
Team building activity, ice breaker and energiser
Please download our Street Moves brochure (in PDF format), which provides further information about our Street Moves events.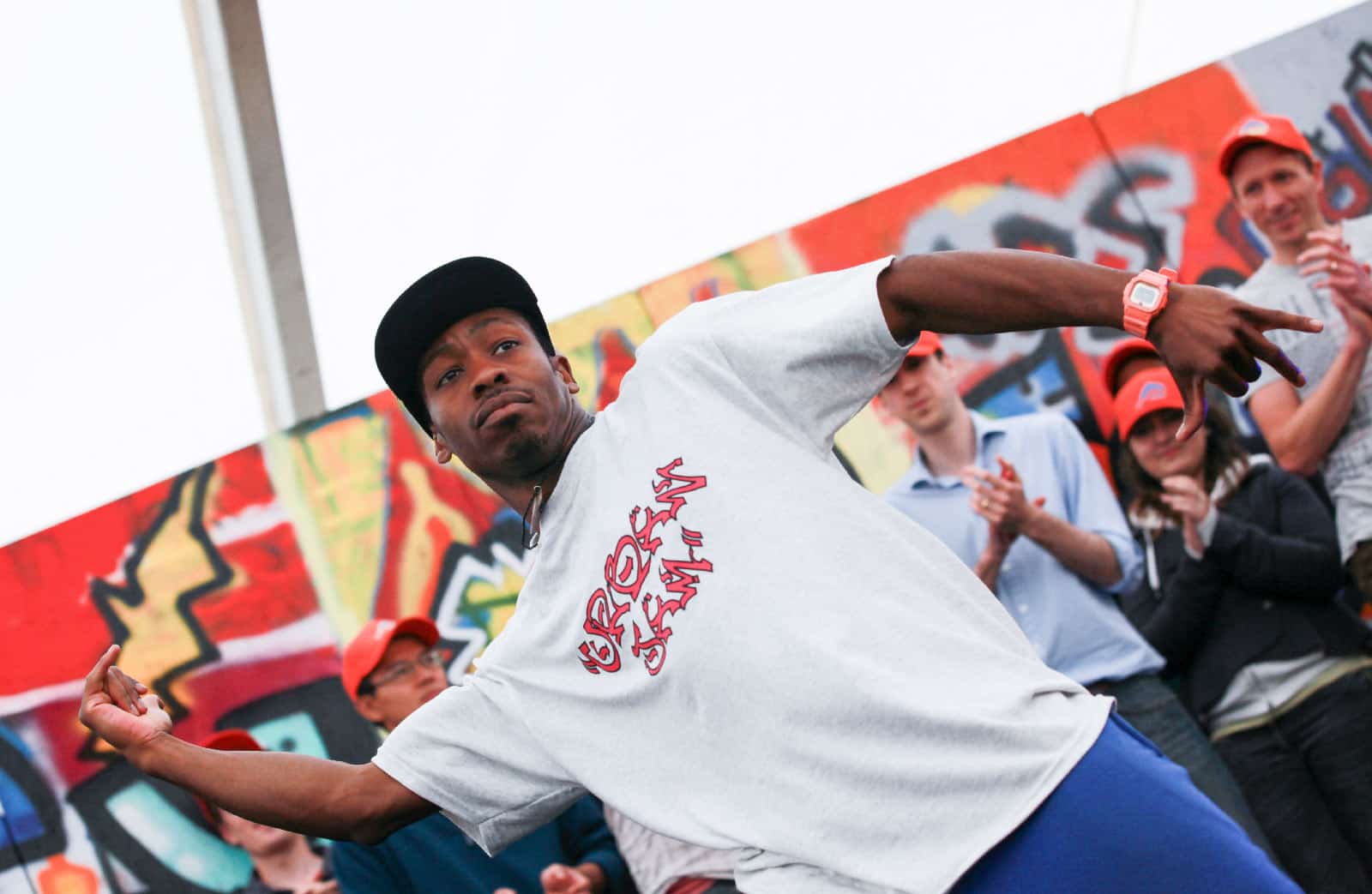 Our expert facilitators will craft a stunning dance routine
You only have to switch on the television to see the current popularity of dance and movement, in programmes such as:
Strictly Come Dancing
So You Think You Can Dance
Got To Dance
The X Factor
Britain's Got Talent
Imagine the look on the faces of your team as pumping music fills your venue and our professional dancers enter the stage, to treat you to a stunning performance. They finish their performance to great applause and then drop the bombshell that now it is the audience's turn!
Within moments our dancers have everyone on their feet. They start with a gentle body warm up, to ease those stiff and creaking joints. This alone is a great icebreaker. The blood is flowing and people are relaxed and ready to begin.
Our dancers are all professional choreographers and experts at teaching novice groovers. Bit by bit, part by part, move by move, they teach your team their very own company dance routine.
You won't believe how quickly and easily everyone gets this together. By looking, asking and learning, our fledgling body poppers not only have a great time and feel proud of their contribution but they also feel connected to everyone else in the performance.
We conclude each Street Moves session with a high-energy finale, to leave everyone proud, awake and energised ready for the next item on your agenda.
Learn Street Moves for up to half a day
Street Moves is  a highly flexible team activity, which we can offer as a blast of sound and movement for a 20-minute ice breaker or as a more comprehensive experience, of up to  half a day. No matter how long you have, we will provide you with an experience that your team will never forget.
We offer Street Dance or any type of music and dance. For example, if Street Dance isn't your thing, you may like our Strictly Team Dancing option.
With many styles of music and dance to choose from, we can create the perfect mood for your particular event.
With no set up or dismantling of  equipment needed, Street Moves is perfect when time is of the essence, you don't want to disrupt the flow of your agenda, or there are limitations in your venue.
We are happy to enhance your Street Moves event with:
Please fill out the form below to get a quote
"If you'd like a quote, under absolutely no obligation, then just enter your details below and we'll get back to you as soon as possible."
Lisa Hayes, Director of Creative Team Events
Full contact details are on our Contact Us page.
Pages you may find interesting:
List of Our Indoor Events |  Strictly Team Dancing  |  Thriller  |  Bollywood