A brilliant team building dancing activity inspired by the BBC's Strictly Come Dancing
The BBC's Strictly Come Dancing TV series has become extremely popular, with over 10 million viewers, and has been responsible for broadening the appeal and take-up of dance across all age groups. Inspired by the popularity of the Strictly Come Dancing TV show, we offer our own Strictly Team Building Dancing event for fun team building and corporate entertainment. Please get in touch as we'd love to provide help, ideas and more information. You can contact us by phone, email and contact form, with full contact details on our Contact Us page. We can provide a no-obligation quote within an hour. Get a Quote now.

Group size:
10 to 200

Typical duration:
30 mins to half a day
Team building activity, ice breaker and energiser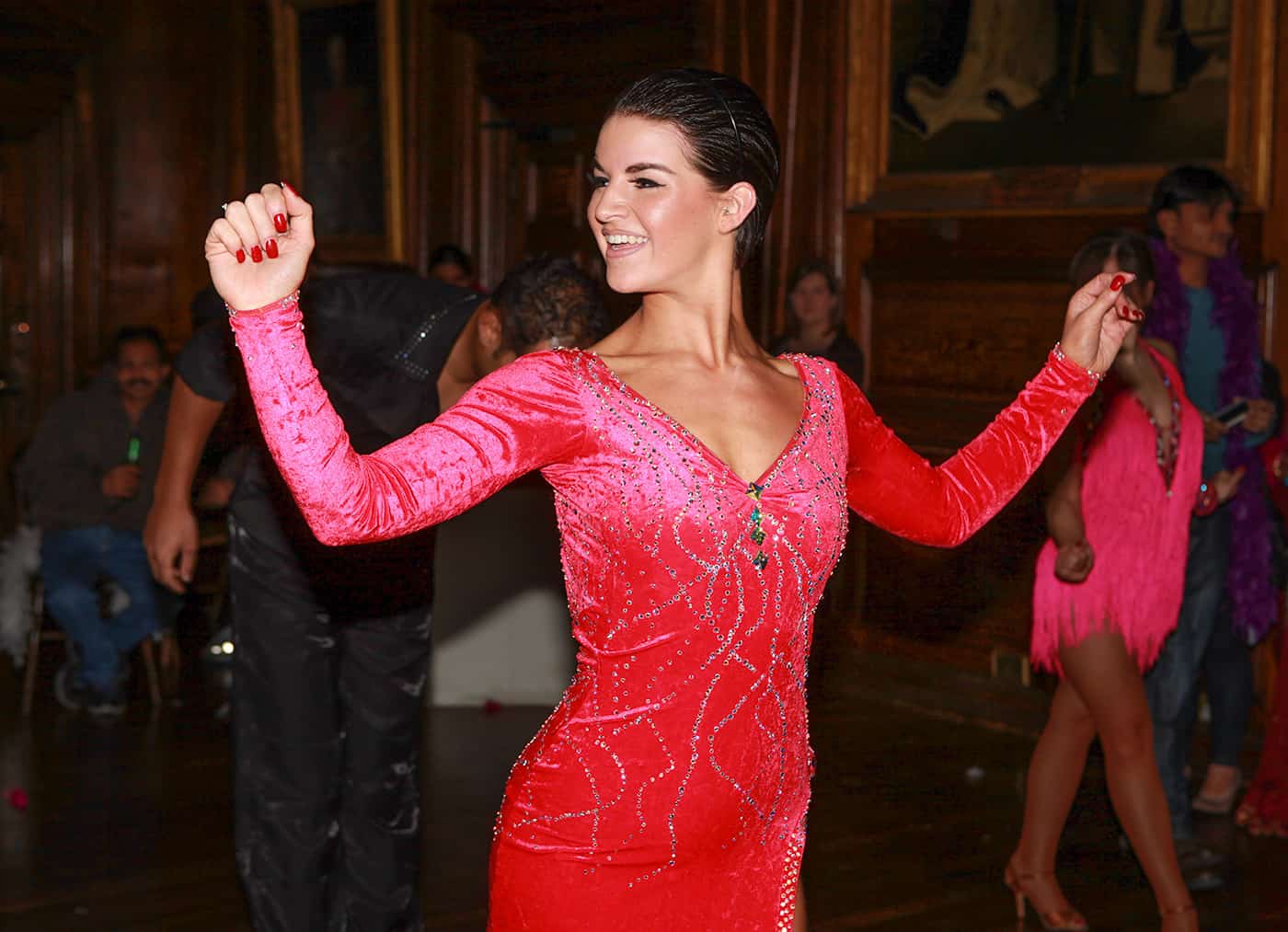 High-energy colour and fun right from the start
A burst of energy enters the room in the form of our professional dancers in brightly coloured costumes.
They perform a fabulous display of moves in a routine to knock your socks off!
Our professional dancers have all worked in the West End, and in various films.
As the applause dies down, they invite everyone in the room to stand up and take part in a quick energiser – instantly dispelling any 'no rhythm' or 'two left feet' myths.
We then break into smaller groups – with each group learning a different style of Strictly dancing – building to spectacular dancing finales.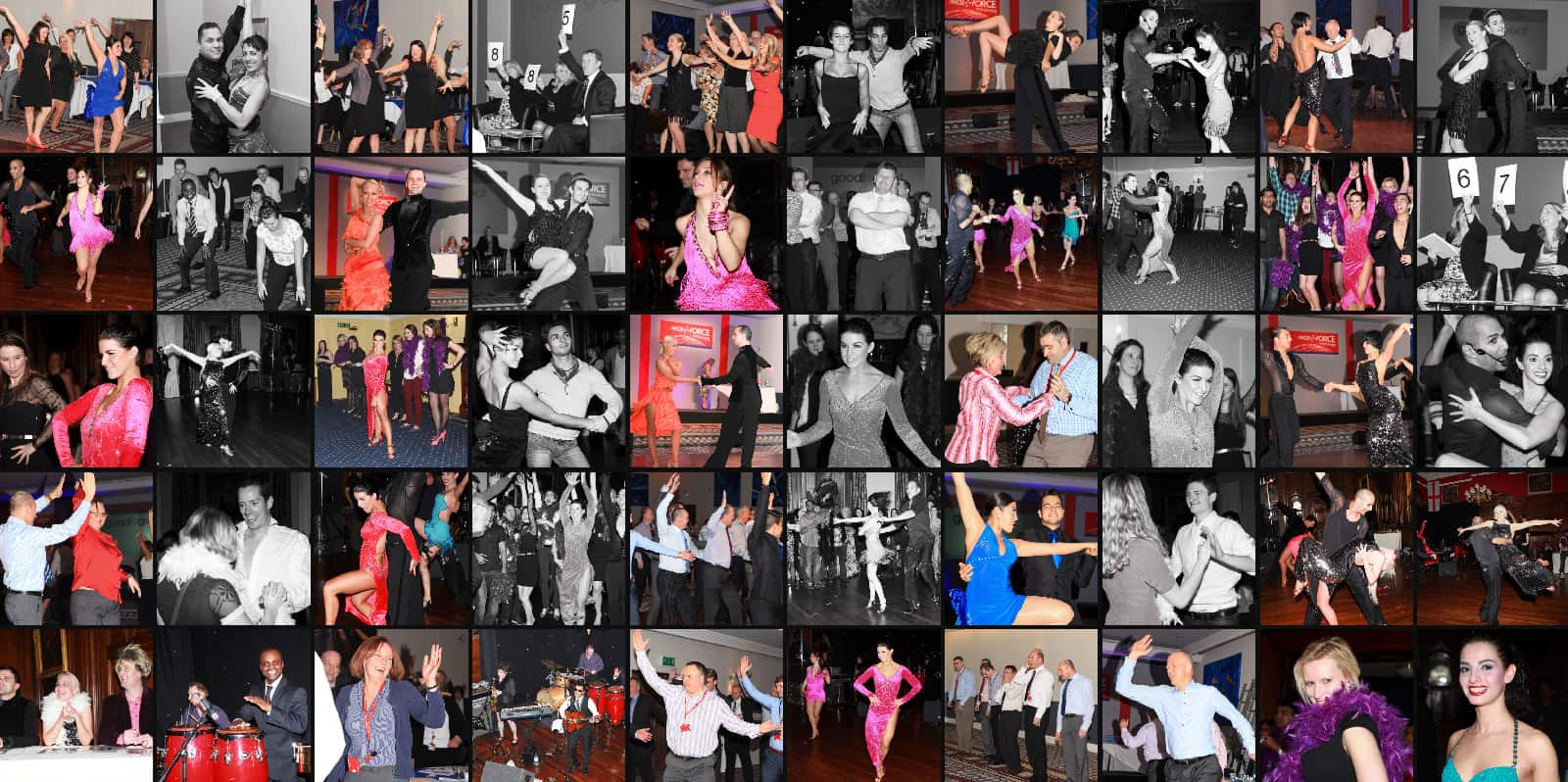 Choose your Strictly style for a unique event
You can choose from many different styles, including:
Jive
Charleston
Merengue
Cha Cha
Salsa
Waltz
Tango
Everyone enjoys our Strictly Team Building Dancing events
This energetic and enjoyable event is about stepping outside normal comfort zones individually to achieve a specular performance as a team.
These dance forms are designed for men and women. They do not need to include partner work as we can produce a formation style performance.
From the first footsteps to the fantastic performance, you will see your colleagues in a whole new light and, in a very short space of time, the entire room will master a short routine. Of course, if there are any natural movers among the group, they can be highlighted in the finale performance!
As the band strikes up for the finale, a huge sense of achievement is felt by all. We are entertained by each teams' performance, under the watchful eye of our esteemed judges.
Relax! We do not adopt the TV show's approach of pinpointing the inadequacies of individuals. Rather, we focus on the positive and celebrate everyone's contribution to ensure that the event ends on a high.
A head-to-head 'dance off' often provides the thrilling finale, and prizes may be awarded. Glamorous fun and passion abound in what is a whirlwind event of seeing what is possible!
Please contact us for help, ideas or a quote
"We'd love to help you, whatever stage you are at planning your next event. We're happy to provide further information, ideas or a quote. Just enter your details below and we'll get back to you as soon as possible."
Lisa Hayes, Director of Creative Team Events
We take your privacy seriously. Read our Privacy Policy.
You can also contact us by phone and email. Full contact details are on our Contact Us page.
We can provide a non-obligation quote within an hour. Get a Quote now.
Please note that while our Strictly Team Dancing event is inspired by the BBC programme Strictly Come Dancing, neither the BBC or any of its affiliates are associated with this team building event.
Pages you may be interested in:
List of Our Indoor Events  |  Thriller  |  Team Building Singing  |  Street Moves | Bollywood